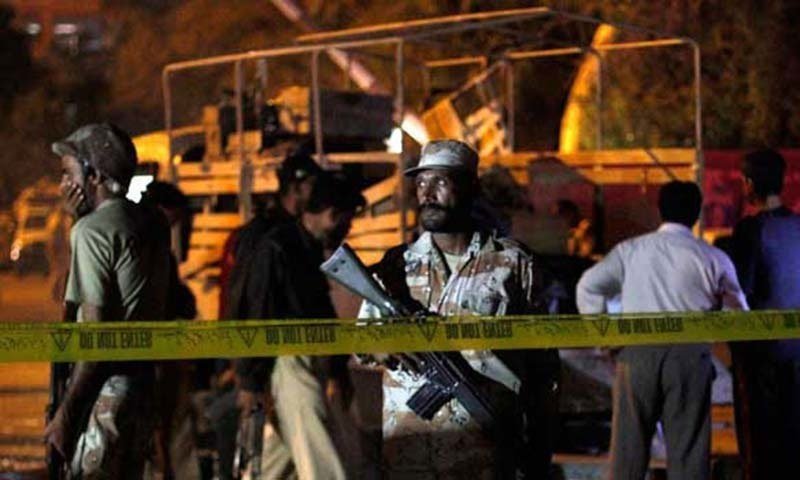 Timing of Pakistan Rangers operation against MQM has been linked to election of Senate Chairman, but this appears to be a diversion intended to set political parties against each other. Meanwhile, the larger picture is beginning to take shape as new operations are being discussed. On Thursday, Corps Commander Lt Gen Naveed Mukhtar said that operations will be ongoing, and we are beginning to see hints of who might be next.
Rauf Klasra has called for next operation to be carried out against Bilawal House.
This could be easily dismissed as sensationalism, but the same idea is popping up across the media. Brig (r) Farooq Hameed Khan used his column in The Nation to call for the next operation against Bilawal House also, and even takes the point to its obvious conclusion:
If PPP is a deliberate obstacle to Karachi's peace, should its incompetent government in Sindh be tolerated for the sake of democracy?
Ahmed Quraishi has also been urging military to carry out operations against PPP and ANP.
#MQM is not alone. #PPP & #ANP too run terror & crime syndicates in #Karachi. #UzairBaloch will return. His confessions could be explosive

— Ahmed Quraishi (@AQpk) March 12, 2015
Shahid Masood even says that he has been told by a security official that anti-PPP operations are being considered also.
Islamabad:"If MQM joins PPP Govt,criminals of both be taken down by single bullets,no escape, no mercy!"a security official just told me!" — Dr Shahid Masood (@Shahidmasooddr) March 11, 2015
Imran Khan has predictably praised the raid against Nine Zero, and in doing so accused Asif Zardari and Nawaz Sharif of trying to 'save MQM', and has even called for cases to be brought in military courts.
Imran Khan has been working very hard to make inroads in Sindh including holding rallies to attack PPP and MQM, but PTI saw disappointing results from there in the last elections. Military operations aimed at crippling first MQM and then PPP would be pave the way for PTI to expand its influence in Sindh.
Events are still unfolding, but there is little reason to believe this was a one-off operation. The raid on Nine Zero was only a taste. The main course is still to come.