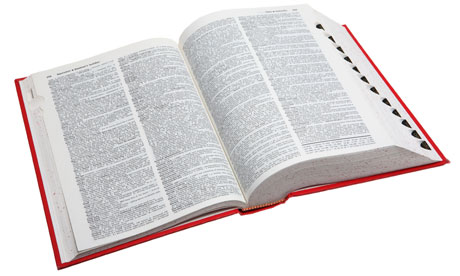 I have written before about how the devil is in the definition. It is often said that one man's terrorist is another man's freedom fighter. Ansar Abbasi is among the many public figures who have said something like 'Aik toh pehli baat mei yeh kahoonga, Amreeka jisko terrorist kehti hia mei usko terrorist nahi manta'. Today, amid outcry about funding of extremism, Saudi Arabia too is hiding behind a dictionary and passing the buck to the Foreign Office.
Saudi Embassy Islamabad has released an official statement denying any funding of extremism in Pakistan. At least, that is how it is being spun with the help of our willing media. Here is what the statement actually says:
"Whenever any seminary, mosque or charity organisations request the kingdom for financial assistance, the embassy refers the matter to the Government of Pakistan through the Ministry of Foreign Affairs for examining suitability of the applicant…when the ministry of foreign affairs informs the embassy in writing that the financial assistance is in the interest of public welfare, the assistance is provided to the applicant."
This is a very clever defence. The Saudi Embassy says there is no funding of extremism, only funding "in the interest of public welfare". No mention of how public welfare is defined, leaving open a very wide door for extremist groups who masquerade as 'welfare organisations'. Groups like Jamaat-ud-Dawa are notorious for running 'public welfare' programs as a cover for spreading an extremist message of hate and also recruiting and supplying materials for international jihad.
Saudi Arabia denies funding extremism, but extremist groups can very easily qualify for funding based on the statement released by their Embassy. By passing the buck to the Foreign Office, though, Saudi actually shines the light on the solution to this crisis: The government of Pakistan needs to step up and define careful criteria for organisations to be eligible to receive funding. This criteria should include not just the existence of 'public welfare' programs, but the absence of extremism. It won't get rid of the problem completely, but it will give the extremists one less definition to hide behind.