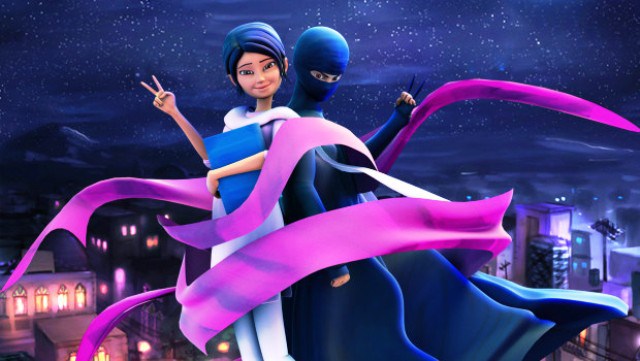 Next month, Haroon's award winning "Burqa Avenger" will be back in the international spotlight since it has been nominated for a prestigious International Emmy Kids Award. The cartoon series about a teacher turned super heroine is an important lesson in women's rights, however sadly for many women in Pakistan such an idea remains a fantasy only.
On any given day, women in Pakistan are abused and killed with no thought to their rights or even their basic humanity. Such inhumane treatment has become so routine that reports of abuses are relegated to "briefs" in news reports if they are even reported at all. On Monday, one newspaper reported the following incidents on all one day:
Childless woman set on fire in Lahore

LAHORE: A woman received burn injuries when her mother-in-law threw kerosene oil at her and set her alight in Musti Gate area on Sunday. Victim Shama Bibi, wife of Akram, of Musti Gate was issueless for a long time. She was often taunted by her mother-in-law Nasreen Bibi in this regard. On the day of incident, Shama was cooking food when Nasreen threw kerosene on her and set her on fire. As a result she received critical burn injuries. She was shifted to hospital where her condition was said to be critical.
Girl killed over marriage issue

KASUR: A girl was killed while her brother and sister were injured over a marriage dispute at Tara Gurh village on Sunday. Muhammad Abbas and accused Fiaz Ahmed had a marriage dispute. On the day of the incident, accused Fiaz and his accomplices entered the house of Muhammad Abbas and allegedly opened fire at the family members. As a result, Umtal (17) was killed on the spot while Shafqat Bibi and her brother Akbar sustained injuries.

Man clubs sister to death for 'honour'

PAKPATTAN: A man killed his sister for honour at Chak 39/EB on Sunday. Ibrar Ahmad doubted that his sister Sidra Zia, a BA student, had developed relations with a man. On the day of the incident, Ibrar allegedly clubbed his sister to death. Police have registered a case and started investigation.
Honour killing has been declared as an unpardonable offense, but just as declaring zero tolerance for terrorism has not ended terrorism, these declarations come as women continue being killed.
Sharmeen Obaid Chinoy's film "Saving Face" brought attention to the issue of women's rights and acid attacks in Pakistan, but tragically these attacks continue till date. Haroon's cartoon series may be receiving international acclaim also, but for too many girls and women in Pakistan, 'Burqa Avenger' remains only fantasy.