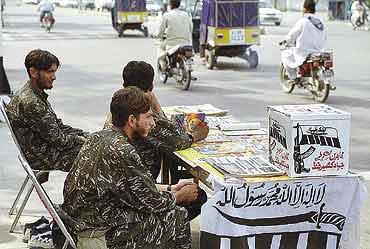 When government officially banned Lashkar-e-Taiba in 2002, Amir Hafiz Saeed started calling his group Jamaat-ud-Dawa (JuD). The group kept the same leaders, members, even the same flag. To defend his actions, Hafiz Saeed's strategy was simply to lie. In 1999, Hafiz Saeed openly talked about Lashkar-e-Taiba's suicide attacks. Speaking to Amir Mir in 2001, Hafiz Saeed spoke as Lashkar-e-Taiba chief and said that his group's goal was "motivating the youth to participate in jehad and using force to liberate occupied Muslim territories". Then, when his name was added to a list of terrorists by the UN in 2008, Hafiz Saeed said "No Lashkar-e-Taiba man is in Jamaat-ud-Dawa and I have never been a chief of Lashkar-e-Taiba". Was he lying in 1999 and 2001 or in 2008? Either way, he had to be lying at some point.
Since Lashkar-e-Taiba was forced to change its name, lying has been the cornerstone of the defense of Jamaat-ud-Dawa and it continues to this day. From one side of its mouth, the group claims that it is a welfare organisation, and from the other, it openly advocates jihad, and collects donations to support mujahideen, and organises events promoting global terrorists. The truth is that Jamaat-ud-Dawa is the jihadi version of the fake CIA vaccination campaign, using humanitarian work as a cover for its jihadi activities.
None of this is new information. Actually, it is all done under broad day light and widely reported here and in the international media. Recently, however, there appears to have been a wide spread campaign to hide the group's true purpose, and it is not just Hafiz Saeed who is involved in the cover up.
Following new calls for shutting down the militant group, Minister for Defence Production Rana Tanveer Hussain defended JuD, terming it a charity. News organisations have begun filing reports that parrot claims that JuD is a "welfare group" and highlighting the group's welfare activities while hiding or downplaying its militant activities. This has left many asking, if the state is serious about zero tolerance policy for militant groups, why the sudden PR campaign to white wash JuD's image?
DG ISPR recently termed an insult the question whether Pakistan was capable of taking on all militants, but as long as politicians and media continue to defend Jamaat-ud-Dawa by pretending it is a welfare organisation like Edhi Foundation despite the obvious reality, what is the world supposed to think?