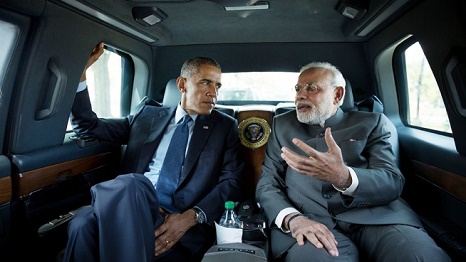 A Tweet by Jang Group correspondent Murtaza Ali Shah caught my attention this morning.
US tilt towards India concerns Pakistan, US leaders going out of the way 2 please India 4 the sake of business deals http://t.co/WSHxmq7Ubv

— Murtaza Ali Shah (@MurtazaGeoNews) January 24, 2015
Unfortunately, the link clicked through to an article by Ansar Abbasi reporting the worn out claim that Jamaat-ud-Dawa is a welfare organisation and that anyone who says otherwise is parroting Indian propaganda. Abbasi gained this information from "highly placed sources" with inside access to what was communicated to US Secretary of State John Kerry during his recent visit. The fact of the matter is that anyone with eyes and ears can see and hear what kind of "charity" Hafiz Saeed and his JuD have been operating – No propaganda necessary. So unless JuD itself is being sponsored by RAW, Abbasi's report is not only baseless, it's comedic. But what this has to do with US and India and business deals? That is what I was interested in. If Murtaza's link would not provide the information, though, my interest was piqued enough that I would have to look for it myself.
It didn't take me long to find a better fitting link for Murtaza's Tweet, a recent article from Forbes about President Obama's upcoming trip to India that reports that the US president will be joined by a cadre of American CEOs. Now this is interesting.
CEOs from top U.S. companies are joining the President on his trip this weekend to the world's biggest democracy.

When President Obama flies off to India this weekend for a historic second trip to the newly-arrived economic giant, he'll have a blue-chip roster of CEOs in tow.

The delegation of business chiefs so far includes Ajay Banga of Mastercard MA 0.01% , Dave Cote of Honeywell HON 3.13% , Bob Iger of Disney DIS -0.45% , Indra Nooyi of Pepsi PEP -0.37% , Arne Sorenson of Marriott MAR 0.04% , and Vivek Ranadive of Tibco TIBX , Fortune has learned.

Officially, Obama is traveling to attend India's Republic Day celebrations as the guest of Indian Prime Minister Narendra Modi (the President even scrambled scheduling of his State of the Union address to accommodate his attendance). But the presence of the corporate captains the White House hustled to recruit for the mission indicates the economic stakes. Warming diplomatic ties between the world's oldest democracy and its largest are encouraging American companies seeking expanded access to India's $2 trillion economy.

Modi is pushing to make his country friendlier to foreign investment with new incentives and regulatory reforms. He unveiled a "Make in India" campaign in September aimed at promoting the country as a manufacturing haven. And the US and India are chasing a five-fold increase in bilateral trade, to $500 billion, by 2020.
This is eye-popping, and should serve as a wake up call to our national strategists and policy makers in Islamabad.
India has never been America's close ally. Actually, quite the opposite has been true. This doesn't mean that the Indians haven't tried to warm relations with the US, just that their attempts have usually received a cool response as the Americans have treated India with a healthy suspicion since their non-alignment during the Cold War. Washington saw Indians as always looking out for themselves, and therefore untrustworthy. This is why India's attempts to poison relations between Pakistan and the US have never been successful – their machinations were always too obvious. Now, however, India has discovered the way to America's heart, and it's not through "national security", it's through "national exchequer".
Here is the one area where American can accept that the Indians are looking out for themselves. In business, everyone is looking out for themselves. But in business, even though everyone understands that they are looking out for themselves, they are also looking to work together to improve their returns. In business, US and India can work closely together without any pretense of brotherly affection or timeless bonds. The only "bonds" they will be discussing will be the financial kind.
Meanwhile, Pakistan continues to base its relations with the US on issues of national security. We are a "strategically important nation" because of our geolocation in a dangerous part of the world. America needs to work with us because we are the front line in the war on terrorism. Problem is, this is the same rationale we have been using since over 50 years, and the Americans have started asking when they're going to see returns on their investment. As the state dithers on questions about jihadi groups like Jamaat-ud-Dawa, our relationship looks less and less like one of mutual benefit and more and more like extortion. As a sovereign nation, we have the right to decide whether or not certain groups are actually supporting our national security objectives, but other countries also have the right to decide that they don't support those objectives and to pull out of their investments.
The one area where everyone has the same interest is in business. We want to make money. They want to make money. This is the one area that all nations have in common. It is why historical enemies like India and America can become allies. It is even why nations like China and America can overcome all odds of being enemies and become allies – or at least develop an understanding that precludes military conflict.
Our national security strategy has failed us. We are not only not safer, we are becoming less and less secure almost daily. It's time to re-think a national security strategy that prioritizes military strength and begin to develop one that prioritizes economic strength. American is not as large as India or China, but it far outpaces them in military strength because it first built its economic strength. Moreover, it has neutralized those countries who might challenge its hegemony by placing economic interests in the way. This is a proven model of success, and one that we should be following.