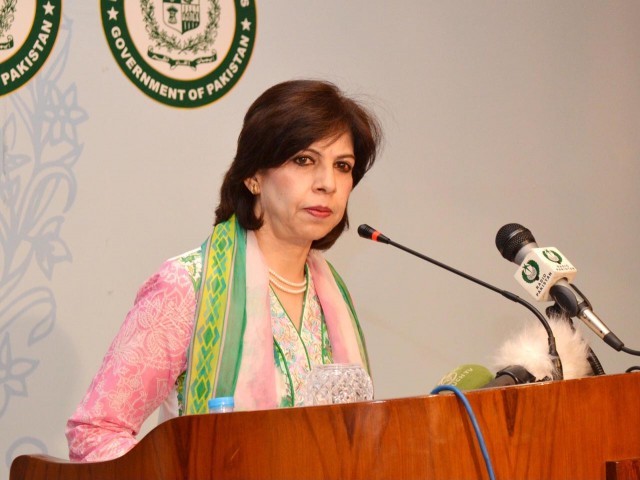 The Foreign Office has issued a strong statement against Indian firing along the Line of Control terming it as "an attempt to distract our armed forces from its valiant mission against all terrorists". There can be little doubt about the FO's claim that increased tensions with India drain vital attention and resources from the fight against terrorists. In order to successfully carry out operations against terrorists, security forces must be able to devote maximum attention to the fight. This is why it is inexplicable why certain militant groups continue to be allowed to operate along the Line of Control.
Indian media reports that Jamaat-ud-Dawa leader Hafiz Saeed was been spotted at Pakistan Rangers Border Outpost (BOP) across Samba sector in Kashmir. This is not the first time such claims have been made. A few months ago, Indian media reported that "heavy firing from Pakistan in the Sialkot sector coincided with the presence of Saeed and other top militants of Lashkar and Jaish-e-Mohammed in the region".
Obviously, such stories appearing in Indian media which tends to be sensationalistic must be given their due scrutiny, and I will admit that when I first read these reports I easily dismissed them as another example of Indian propaganda to provoke Pakistan or make excuses for their cross-border firings. However, recent information was brought to my attention which cannot be ignored.
This poster was found in Sialkot promoting 2nd January Jumma sermon in Sialkot organised by Jamaat-ud-Dawa. The sermon was lead by Abdul Rehman al-Dakhil, "great ghazi of Afghanistan, Iraq, and Kashmir, great prisoner of America for 11 years", etc. etc. etc.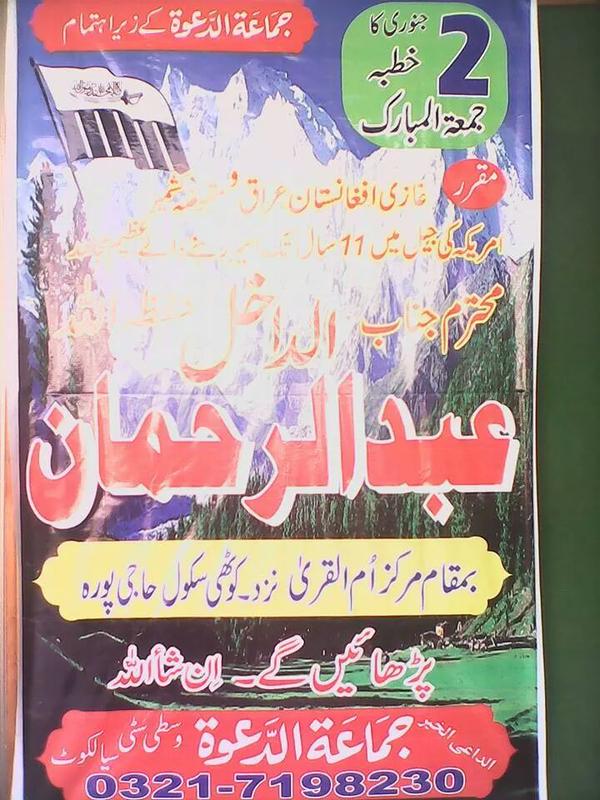 This raises disturbing questions. While Army is making very strong claims of having zero tolerance for militants, why is Jamaat-ud-Dawa being allowed to openly organise and promote jihadi militants?
It should also be noted that the prayer leader being promoted, Abdul Rehman al-Dakhil, is a noted global terrorist who was arrested in Iraq by British forces and then turned over to American forces for interrogation.
Ahmad, a longtime Lashkar operative from the Bahawalpur area of Pakistan's Punjab province, was LeT's operational lead for its campaign of violence in India between 1997 and 2001. Ahmad is also known to be a confidant of Zaki-ur-Rahman Lakhvi, the second-in-command in the Lashkar military hierarchy, and has trained many LeT fighters in its Maskar Abu Bashir camp in Afghanistan.

In 1998, Ahmad addressed a major LeT conference in the group's headquarters at Muridke, near Lahore, arguing for the need to extend the organization's activities outside Kashmir.
Jihadi groups have been openly telling of plans to increase activities and operations in Kashmir (see this story and this story) since the past year. This is well known. Reports of sightings of Hafiz Saeed at Pakistan Rangers BOP can easily be dismissed as there are not going to be hard evidences such as photographs or videos of such events, but the fact that the most recent reports coincide with Jamaat-ud-Dawa's special event promoting jihadi leader Abdul Rehman al-Dakhil must make one take notice. Surely this is an event that Hafiz Saeed would attend, and it took place in the vicinity and during the same time as the alleged sighting.
This raises the most troubling question of all: Is Pakistan military continuing to use jihadi proxy groups such as Lashkar-e-Taiba? If so, this means that in the words of the Foreign Office, Army is actually undermining its own fight against terrorists.
Whether Army is actively cooperating with jihadi groups in Kashmir cannot be proven beyond any doubt, but that is actually beside the point. The fact is that these groups are operating openly and in doing so they are undermining the fight against terrorists. It's time to put an end to the 'Good Taliban' exception once and for all. The nation's very existence depends on it.