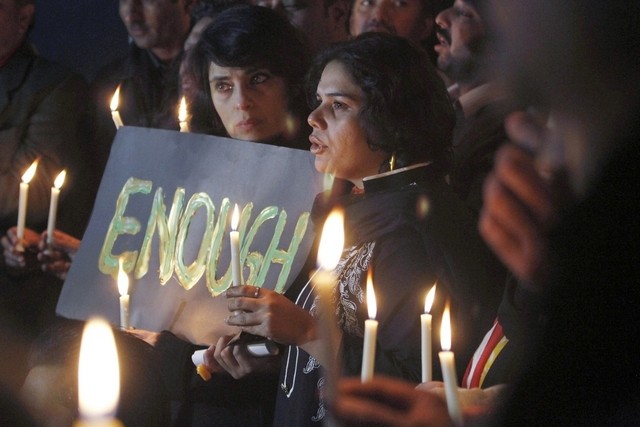 Peshawar attack has been termed a 'game changer' in government's response to militants, and the nation appears united unlike it has been since long. Official numbers report that 50,000 Pakistanis have been killed by jihadi terrorists since 2001, but it was the 141 killed on 16th December that have finally crossed the tipping point. It was an act of brutality and cowardice on such a scale that it has shocked the world to its core because the attack targeted children.
The TTP have killed thousands in their seven-year insurgency, but [foreign affairs and national security advisor to Prime Minister Nawaz Sharif Sartaj Aziz] said the nature of the Peshawar attack was radically different from what had gone before.

"It was targeted at the children, and those children who were injured, they fired back upon them to kill them," he said.
The response has been swift. Nawaz Sharif lifted the ban on death penalty, and COAS quickly began signing death warrant for convicted terrorists. Today, the first two met their fate.
The popular belief is that this time, everything is different. The attack was different. The response is different. And now, the future will be different. But I worry about what was really different, and what that means for us.
The Taliban's attack was inhuman. That cannot be denied. But targeting children is actually not new. In 2009, Taliban ambushed a school bus in Hangu killing several school children. In 2011, Taliban attacked a school bus outside Peshawar, killing four children. In 2013, Lashkar-e-Jhangvi carried out a bomb attack near a school that killed children.
A spokesman for Lashkar-e-Jhangvi, a Sunni group, claimed responsibility for the bomb in Quetta, which caused casualties in the town's main bazaar, a school and a computer centre. Police said most of the victims were Shi'ites. Burned school bags and books were strewn around.
And just a few months ago, 15-year-old Aitizaz Hasan sacrificed his life to save his schoolmates when he stopped a suicide attack against his school in Hangu.
These are just a few examples of children being targeted by jihadi terrorists. What was different this time?
Obviously, the scale. Every child's life is precious, but the evil required for killing so many at once is shocking beyond belief. Still, I can't help but wonder whether the same response would be taking place if the school had been in Hangu and not at an Army base.
The executions that are now taking place only add to my concerns. I have no pity for the lives of Dr Usman and Arshad Mehmood, but I cannot help but notice that these were the two who were chosen to be first executed in response to the attack against school children.
Usman a former soldier of the army's medical corps, was executed in relation to an attack on the headquarters of the Pakistan Army in 2009 in Rawalpindi. Arshad Mehmood, was executed for an assassination attempt on former military ruler, General (retd.) Pervez Musharraf.
The nation is united right now, and the state is responding. I pray that this week's tragedy is truly a 'game changer', and that there will be no tolerance for any terrorist, whether they are attacking Army officers and their families, or some poor Hazara farmers.