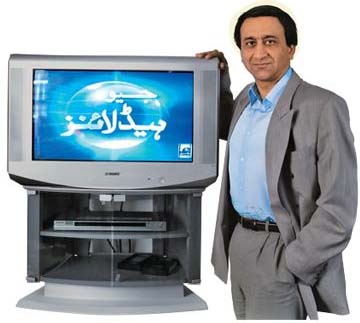 Mir Shakil-ur-Rehman's sentence to 26 years in prison for blasphemy has shocked the world. Besides questions about misuse of blasphemy laws, global human rights groups have expressed serious concerns about the fairness of the trial and warn that it could have 'chilling effect on freedom of expression in Pakistan'. There is another meaning, though, that is far more frightening than worrying about freedom of expression.
Mir Shakil-ur Rehman is a wealthy person. He is well connected and can hire dozens of lawyers to defend him in all the high courts, in the apex court and possibly in many of the lower courts but still he can't face 75 FIRs, 75 criminal investigations and 75 courts. If this could happen to a person with so much influence, the tales of the injustices of our criminal justice system in the case of ordinary Pakistanis and poor fellows would have been horrific and atrocious.
Mir Shakil-ur-Rehman has been estimated to be the second richest man in Pakistan. He controls the nation's largest media empire, and is as politically connected as possible. Still this was not enough to save him, and like so many others he has reportedly been forced to flee his own own country.
What hope then for the common man who has no riches to hire an army of lawyers. No media group to help make his case in the public's eyes. No friends in the halls of power to twist arms and pressurize the powers that be. What hope could Asia Bibi, Sawan Masih, and the countless other minorities who are targeted with blasphemy charges?
For the Jang/Geo chief, the courts have declared him a blasphemer and stained him with a black mark that could threaten his very life. For the rest of us, the courts have put us on notice that our meager existence is subject to the whims and vindictiveness of our enemies.
In other words, none of us is safe.