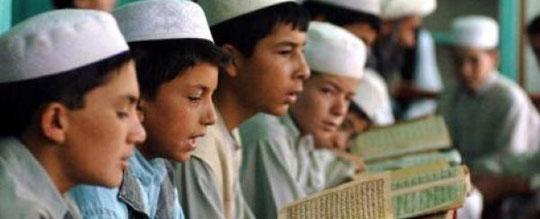 Yesterday, Government KP announced that 2000 madrassahs will be given Primary School status:
2000 madrassahs will be given status of Primary school in next month.CM KP #IKinPeshawar

— Govt of KP (@kpgovt) July 22, 2014
What this means is not exactly clear. It could mean that 2000 madrassahs will be brought under state curriculum in effort to eliminate radicalising forces and improve the education of all students. However the reality is probably different.
In the best case scenario, this is a scheme to cook the books on education in the province by making it appear that the provincial government has increased number of primary schools. This is more of an accounting trick than anything else, moving schools from the madrassah column to the primary school column to boost numbers. Supporters of the move will argue that this will have a positive effect by bringing them under official curriculum and increasing lessons on maths and science for madrassah students.
More likely is that the result will be mainstreaming of extremism in KP primary schools. It should be remembered that one year ago KP government changed the official school curriculum to include lessons on jihad.
"Jihad is a part of our faith and every child should have knowledge about it and its true spirit," said Farman, who was flanked by Elementary and Secondary Education Additional Secretary Qaiser Alam. "In the curriculum we will include whatever we consider correct. We are not going to appease anyone," he stressed.
Such statements suggest that the influence is more likely to come from the madrassahs than the other way around.
Pakistan faces an education crisis, and KP is in many ways suffering the worst as hundreds of state schools have been destroyed by militant extremists. The solution however is not to turn education over to them.