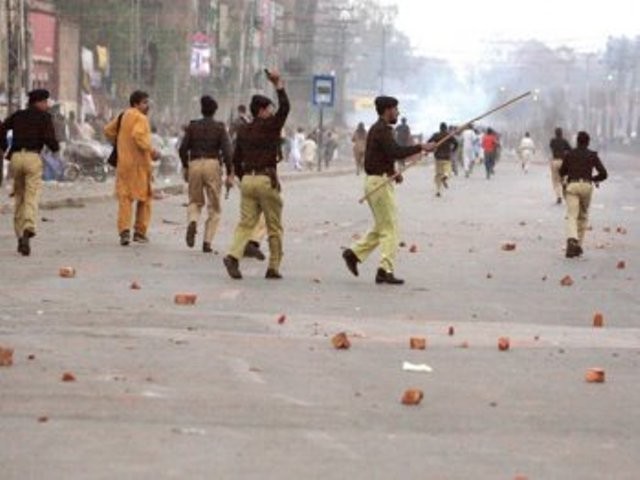 For a brief moment, it seemed as if a new dawn was rising in Pakistan. Following an audacious attack against Karachi Airport, the nation seemed to pull together in a rare show of unity. The Prime Minister was giving strong statements announcing the beginning of the end of terrorism. The military were taking the fight straight to the heart of the militant camps in North Waziristan. Even PTI was endorsing the operations, and for a fleeting moment we had a glimpse of what Pakistan could look like without cynical political opportunism and without the civilians and military working at crossed purposes. Then, it happened. Lahore.
There is no question that Tahirul Qadri is a cynical opportunist of the worst sort, and the the timing of his protest was beyond comprehension. None of this, however, can explain or excuse what happened next.
"Clashes between workers of Dr. Tahir-ul-Qadri's PAT party and police started in the morning when police started removing barriers from the road [outside Qadri's Lahore residence in Model Town]," Sohail Azim, a police officer on the scene, told Newsweek.

"Following complaints from Model Town residents, police sought to remove barriers from Dr. Qadri's house," said Azim. "While police were working to remove the barriers, political workers pelted them with stones, injuring three senior officials," he added.

In response, police baton-charged the protesters and fired tear-gas shells on them. TV footage also showed police officers opening fire on the protesters and Qadri's residence, resulting in the deaths.
This is more than merely a distraction that the nation cannot afford. It is a division among the people in a time that calls for unity. It undermines faith in the government and security services just when that faith is most desperately needed.
The fragile national unity that was just beginning to emerge has already begun to crumble. Not only are Qadri's supporters baying for blood, PTI (never one to miss an opportunity to jump in the lime light) has quickly announced that its Bahawalpur jalsa is back on. MQM has announced another day of mourning, shuttering Karachi in response to the attacks on Qadri's supporters.
The proper response was a simple one. Allow Qadri and his supporters to have their rally which was made completely irrelevant by the new wind that had just begun to blow. Let them protest and let them go home. Instead, the streets were stained with the bodies of the dead. Not terrorists, but innocents. Just when things were starting to look up, chaos has returned. It remains to be seen whether the Sharifs can put things back together, or whether they have finally managed to snatch defeat from the jaws of victory.