Ahmed Quraishi has been busy lately. While his PakNationalists blog may have found its inevitable way into the dustbin of history, his career has taken an interesting new turn.
Earlier today crossed #French border into #Switzerland #Geneva to attend #UN HR session, part of #Kashmir delegation pic.twitter.com/vqFLV7sZUb

— Ahmed Quraishi (@AQpk) June 11, 2014
Neither is this the first time that he has been traveling the world this year: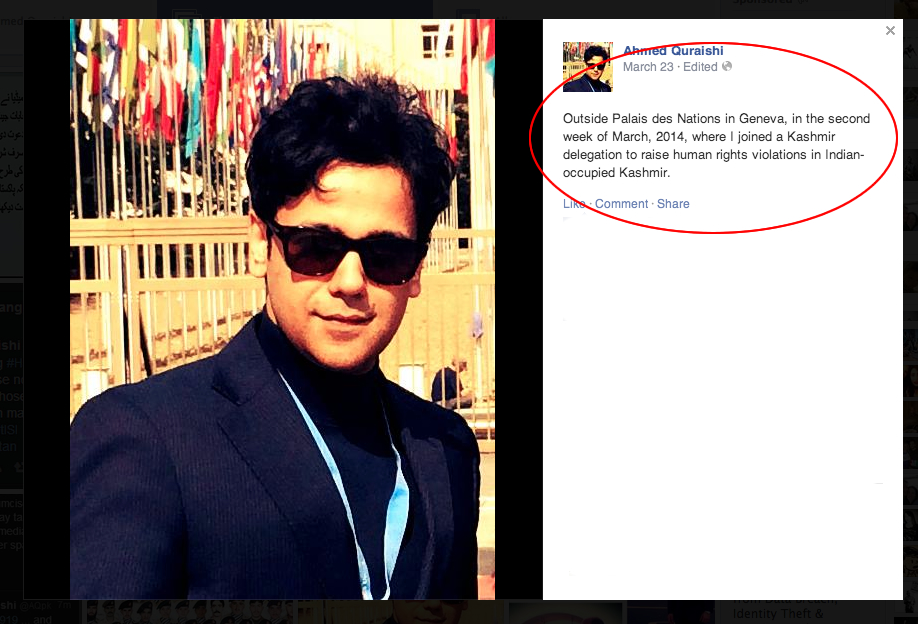 Question is who is funding Ahmed Quraishi's world travels? And who is arranging for his invitation to meetings with the United Nations? Ahmed Quraishi is not a Ph.D. in Kashmir or South Asian policy. It is not even known whether he has any degree at all. His background has always been as an amatuerish military stooge, not a policy expert.
Perhaps it is no coincidence that Mr Ahmed Quraishi's 'Youth Forum on Kashmir' is taking such a prominent role following the unceremonious demise of another pro-Kashmir group? However whoever is funding Ahmed Quraishi's globe trotting might want to consider what kind of return they are getting on their investment. Judging by the response he is receiving in Geneva, it might not be what they had bargained for.