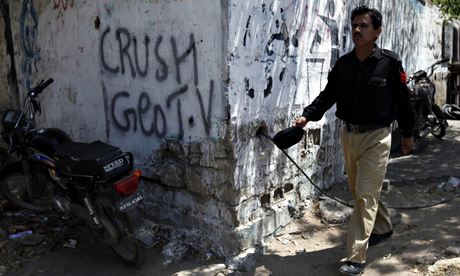 A blasphemy case has been registered under sections 295, 295C 298C and others against GEO media group owner, Mir Shakilur Rehman, anchor Shaista Lodhi, Veena Malik, Asad Khatak and other people, creating a new state of affairs.
Perhaps this is the first time that such high profile people have been charged under the blasphemy law and these are all very serious charges with the most severe punishment ranging up to the death penalty.
Normally, in such cases the police immediately arrest the accused, and if they fail then local imams use their leverage to provoke or remind Muslims of their religious duty, using mosque loudspeakers.
An emotionally charged religious mob then takes the law into their own hands and begins the process of self proclaimed justice which often results in the accused person being lynched. If the accused is Christian then the whole community comes under attack, their churches are rampaged and towns can even be set on fire. Even those who are not involved are punished.
But the situation in this case is quite different and intriguing, and everybody is watching it cautiously as this case can be a game changer.
The incident occurred on May 14 during the Utho Jago Pakistan show, hosted by Shaista Lodhi. People complained about some objectionable clips, and as soon as she realised her mistake she apologised on air, but it was too late as it has become a burning issue for some people. It is being seen not as a normal crime, but a crime against Islam, and carries a severe punishment.
Because of public pressure an FIR (first information police report) was registered on May 17 in Margla Police station, Islamabad, but according to reports a similar case has been registered in several police stations. Nobody has been arrested yet which is very unusual in these kinds of cases, but since all these people are very high-profile, law enforcement agencies and the government are both hesitant to take any action.
On the contrary, this is the first time I have seen the polarization of Ulemas and politicians. Some are insisting on action to be taken, while others are insisting on accepting the apology of Shaista Lodhi, the host of Utho Jago Pakistan. I wonder why some of those who are insisting on accepting the apology, including hardliners who have been vociferously suggesting death only as a penalty for the blasphemer and never believe in a pardon, are now being such hypocrites. No doubt they will find some Islamic reference to justify their stance.
The situation is becoming more complex and many zealots cannot understand what action they should take. Keeping in view such situation, I cannot predict anything, but my personal opinion is that the apology should be accepted.
However, it does not seem that easy as Sahabzada Hamid Raza, Chairman Sunny Ittehad Council has submitted a petition in the Supreme Court and also the Sunni Ittehad Council's (SIC) Ulema Board has issued a fatwa. There are several others who are not willing to accept the apology and are determined not to let this issue go at any cost. They want the implementation of the law to be able to run its course.
Sahabzada Hamid Raza and several other Ulemas believe no one has a right to pardon, and if pardoning these people is so important because of their social status, then everyone who has been languishing in prison for years must also be pardoned.
I think this is a principal stance and I am in favour of everyone being pardoned as the majority of these victims are innocent and they have been falsely accused to settle personal scores. If we look at history, many have been acquitted by the courts as they were found not guilty. In the majority of cases there are no witnesses and no evidence.
But this case is unique as, if started, it will be challenging for the courts, but equally simple as the witnesses and evidences are readily available. However, will this case ever be started, and if started, will it be decided according to the law. I have some doubts as Pakistan has double standards regardless of law or religion.
Some Christians are comparing this case with Aasia Bibi's, and commenting on different blogs and websites that if these people are charged under 295C and can be pardoned, then why not Aasia Bibi, a poor Christian woman, who had a bounty on her head and has been on death row since 2010. No one could dare to speak for her, and it was only Salmaan Taseer, the Governor of Punjab who had the courage to try and get her justice. He was openly threatened for his life but he refused to be silence and then on January 4 he was shot dead by his own guard. The message was clear that opposing religious rights and supporting blasphemers can make you a target. Instead of condemning the horrific act, Islamic parties and groups led thousands of people in a protest, while several demanded Aasia's execution. But now we have the ludicrous situation, several religious and political leaders insisting on accepting an apology for the same offence.
I wish that at least the moderate politicians had taken a stand against the tyranny of the blasphemy law. We all know that Taseer had not committed blasphemy in anyway but was only punished for standing with a poor Christian lady who comes from nowhere and was falsely accused of blasphemy.
The blasphemy law is continuously being criticised by the international community for its widespread misuse, and for endangering the lives of innocent people, but the government is not paying any attention. Undoubtedly the law needs overhauling as the wording of 295-C is: "use of derogatory remarks etc., in respect of the Holy Prophet: – whoever by words, either spoken or written, or by visible representation, or by any imputation innuendo, or insinuation, directly, defiles the sacred name of the Holy Prophet Muhammad (PBUH) shall be punished with death, or imprisonment for life and shall also be liable for fine". If we analyse this case in the light of this wording, then it is clear that blasphemy has been committed.
I remember the case of Dr. Naushad Valiyani who was arrested under blasphemy charges following a complaint by a medical representative after his business card was thrown in the rubbish basket. (Please see: PAKISTAN: A doctor is arrested on a blasphemy charge after the protest of multi-national companies). My article was published in Daily Dawn, I had warned of such consequences if the law remained the same or safeguards were not introduced. I wish the government had paid attention to the suggestion of Hafiz Tahir Ashrafi, who suggested the same punishment for false accusers. According to the present wording, and using Dr. Valiyani's case as an example, the majority of Pakistanis have committed blasphemy at least once and many have done so unknowingly on several occasions.
It is not too late to learn from these cases and gather together a team of legal experts, Ulemas and human rights experts to reach an acceptable conclusion before it creates a crisis in the country. No one is safe and no one knows who is going to be next.
The majority of Pakistanis are potential blasphemers, especially those who use Mohammad (PBUH) within their name. The time has come to change the law and further delay means further damage. The worst is yet to come.
About the Writer: Nasir Saeed is the director of Centre for Legal Aid Assistance and Settlement and can be reached at; [email protected]