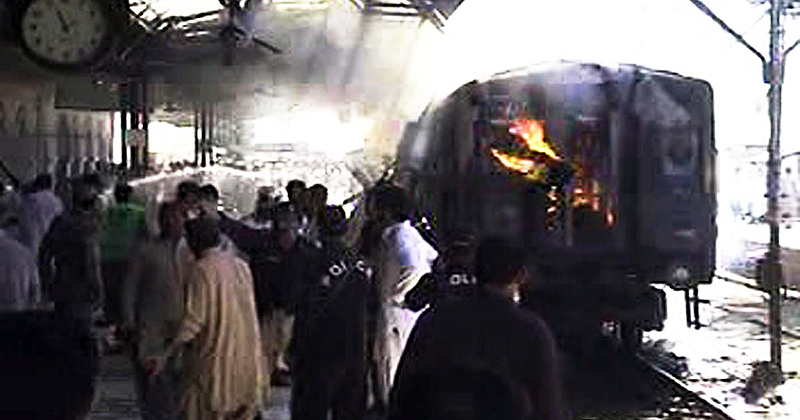 At least 16 were killed and dozens more injured in a blast at Sibi railway station today. This is not the first terrorist attack in Sibi. Actually, it's not even the first this week. According to Federal Minister for Railways Khawaja Saad Rafique, terrorists fired on the same train earlier this week. Before that, there were attacks in 2008, 2012, 2013, and January of this year. Additionally, while no one has claimed responsibility for today's attack, the timing coming the day after reports that FC men killed more than 30 Baloch separatists leads many to suspect that today's attack was an act of revenge by the same.
The Baloch have legitimate grievances including the torture and disappearance of people by security agencies. And they have equally valid concerns about whether their grievances will ever be addressed by a government that not only appears to have abandoned them to their fate, but has even forced through new laws that would protect those involved in such disappearances.
None of this is an excuse for terrorism and killing innocent people. But that's not the message being delivered by leaders like Imran Khan and Chaudhry Nisar whose vocal defence and appeasement of Taliban militants who have killed thousands of innocent Pakistanis sends the clear message that terrorism is the most effective way to get what you want.
Think about it. Imagine that you are angry and you look around and see that another group of angry people is killing people by the thousands and political leaders are terming them as 'simple tribesmen', warning the military not to take action, holding protests to shut down supply lines used to carry out attacks against them, terming them as 'brothers', inviting them to cricket matches, etc etc etc. What would you think you should do?
The PMLN government has generously released 19 Taliban prisoners, and promised to release an additional 13 more this week. In exchange, the Taliban has offered nothing. When jihadis carried out attacks against innocents during the so-called ceasefire, Interior Minister Chaudhry Nisar graciously passed the responsibility onto 'foreign enemies'. We are rewarding the Taliban for killing us. We should condemn these attacks, but should we be surprised when other groups follow their path?