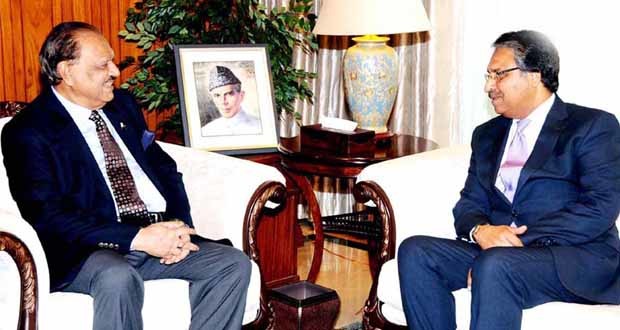 Pakistan's Ambassador to the US has been termed as 'toughest job in the world'. Much more than a mere ceremonial position, the Ambassador has the unenviable task of not only explaining Pakistan's positions, but trying to negotiate with the world's sole superpower that too often has a hard time appreciating a view other than its own. Having been without a permanent representative since the past seven months, our new representative, Jalil Abbas Jilani, arrived this week in Washington, DC to try to mend a relationship that many fear is rapidly approaching a breaking point. The question is, does he have the credibility to do it?
Jilani follows two very successful Ambassadors. Sherry Rehman strongly defended Pakistan's position on drone strikes, and successfully stopped attempts to block aid to Pakistan following the conviction of Shakil Afridi, the doctor who allegedly helped the CIA track down Osama bin Laden in Abbottabad. Ambassador Rehman's predecessor, Husain Haqqani, not only helped secure hundreds of millions of dollars in humanitarian relief for flood affectees, he was able to defend the arrest of CIA informants – an unpopular position in the US – when needed.
The previous two Ambassadors were both journalists by training, and both enjoyed a credibility in the halls of power in Washington which played an important role in their ability to persuade their American counterparts on difficult issues. This credibility came from what was perceived as their personal principles and commitment to a future for Pakistan that broke from past mistakes.
Jilani's appointment has been greeted with a warm welcome by those those in the foreign service who see the highest foreign post as properly belonging to a career diplomat. While he does not enjoy the personal celebrity that his predecessors enjoyed, he does bring a sense of predictability.
But Jilani's career experience brings with it some baggage, too. In 1999, Jilani was given another highly sensitive post: Charge d'Affaires in New Delhi. However, he was expelled by India in 2003 for allegedly 'indulging in activities incompatible with his official status'. The alleged activities included providing secret funds to Kashmiri jihadis.
Jilani denied the allegations, of course, but his interactions with Kashmiri separatists did not stop there. As Foreign Secretary, Jilani traveled to New Delhi again in 2012. During this trip, Jilani created controversy by meeting with Hurriyat leaders Mirwaiz Umar Farooq and Syed Ali Shah Geelani where he assured them of his support on the day before he met with his Indian counterpart.
Now, Jilani will be representing Pakistan before the American government. and his previous record could be an impediment to his ability to convince his American counterparts. Senior White House officials recently declared that US policy on Kashmir "has not changed one iota", and President Obama has appointed a record number of Indians to key positions in the White House this year. A long record of interaction with Kashmiri separatists, and his expulsion from a previous diplomatic post could create certain suspicions about the new Ambassador before he even arrives.
While previous Ambassadors arrived with a certain credibility, Jilani's first task will be establishing credibility with his American counterparts. And he needs to do it fast. The US is weighing it's options in Afghanistan, from which it plans to withdraw most to all of its presence in the coming year. This will have serious consequences for Pakistan as Afghanistan is already used as a base for anti-Pakistan operations by Taliban.
Imran Khan's fantasies aside, it is Pakistan that is facing a future that looks increasingly isolated. China is facing increasing attacks from terrorists that it says are trained in Pakistan, and even among Islamic countries, Pakistan is losing ground to India in relations with Iran. Despite our troubled relationship with the US, it remains a critically important one.
This is the reality whether we like it or not. Due to this reality, it is crucial that Pakistan's Ambassador to the US has the credibility within the halls of power in Washington to effectively represent Pakistan's interests. If Jalil Abbas Jilani is viewed as representing Pakistan's past, rather than it's future, that credibility could be in jeopardy.