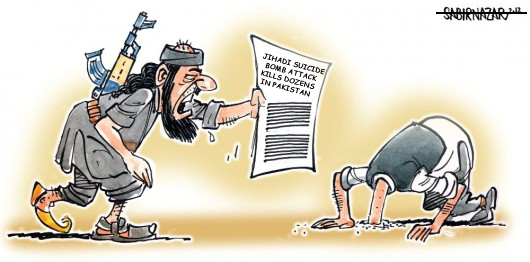 Following multiple terrorist attacks that killed dozens including high ranking military officers and innocent civilians alike, there appeared a brief moment of clarity in the national discussion. Some even predicted a change in the attitude among the top leadership, pointing to the sudden increase in media stories openly criticising state support for jihadi groups as part of foreign policy. It appears that prediction may have been premature. Once again, as the dust begins to settle after the blast, Jihadi sympathisers and media Talibans are giving full throated support for militant groups.
Imran Khan has doubled down on his support for the Taliban, today recommending that TTP be allowed to open an official office in Pakistan, giving the terrorist group official status as a legitimate political party rather than a band of outlaws and murderers. Same day, The News published a piece by Ansar Abbasi on the front page which terms media criticism of TTP as a foreign conspiracy to sabotage peace talks.
It should not surprise us that this is the official line of Taliban sympathisers. Some of them had been quick to deny the possibility of Taliban involvement even before the Taliban 'distanced itself' from the attack.
Peshawar Blast is an attempt to sabotage the peace talks, #PlotAgainstPeaceTalks

— Jamaat-e-Islami (@JIPOfficial) September 23, 2013
Ansar Abbasi knows that the TTP did not commit the attack because they said so, and we all know that jihadis are as good as their word. This is why Ansar Abbasi is comfortable also quoting TTP spokesman Shahidullah Shahid saying that '…nor do we attack innocent people.' This will bring cold comfort to the families of those killed by TTP suicide bombers.
Maybe we should be careful about taking the word of those willing to twist the meaning of words to justify their own actions?
@newpakistan @Tabesch @omar_quraishi Do not confuse a revealed obligation that is legitimate at due place of occupations with violence.

— Jamat 'ud' Da'wah (@JuD_Official) September 21, 2012
The #PlotAgainstPeaceTalks conspiracy theory is also parroted in a piece in The Nation by S M Hali who says,
'Even before the process could begin, a Major General, a Lieutenant Colonel and eighty Christians have been surreptitiously targeted in separate attacks. Apparently some forces want to nip the proposed peace talks in the bud.'
The former group captain of PAF who also served as air and naval attaché at Riyadh is careful to make sure we know who it is that's trying to sabotage the peace talks.
Two articles, appearing in Britain's leading daily "Daily Telegraph" and USA's "New York Times", which may not be representatives of their respective governments, but are reputed to articulate the pulse of 10 Downing Street and Capitol Hill respectively, have expressed dismay and discontent at the outcome of the APC…
The retired officer even takes care to note that one of the journalists was 'declared persona non grata by Pakistan in July 2013', though I do wish he would let us know why that visa was revoked so at least mystery could be solved.
Meanwhile the struggle to keep up the narrative of 'Good Taliban' and 'Bad Taliban' continues.
#Pakistani media should start differentiating between #AfTaliban & #TTP terrorists. One is Taliban. Other is terrorist.

— Ahmed Quraishi (@AQpk) September 25, 2013
Ironically, this is the same excuse given by TTP sympathisers like Ansasr Abbasi who cleverly note that TTP 'distanced itself' from the church bombing in Peshawar, laying the blame instead on Jandullah. This is a game we are all well familiar with, isn't it? There is no Lashkar-e-Taiba, there is only Jamaat-ud-Dawa, only there is no Jamaat-ud-Dawa, there is only Falah-e-Insaniat Foundation. Soon we will learn that Tehreek-e-Taliban is merely a 'charity', and attacks are being carried out by a group we've never heard of, only we are sure they're not Muslims. Come to think of it, they are probably CIA-funded Hindu-Zionists.
And so, once again, it is a new day, but the conspiracy theory stays the same. Our heads remain comfortably buried in the sand until the next terrorist attack wakes us just long enough to be lulled back to sleep by the fairy tale read to us again.