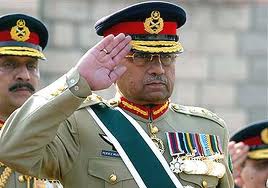 With charges against former dictator, General Pervez Musharraf, formally filed in an Islamabad court, the assassination of Mohtarma Benazir Bhutto is once again the center of attention. While few doubt that Musharraf failed to provide sufficient security to the popular leader, her assassination was not just Musharraf's doing. In a forthcoming book United Nations investigator Heraldo Munoz has pointed out that there is much more that needs both investigation and prosecution.
"In Bhutto's case, it would seem that the village assassinated her," Munoz writes in an extract from his book published in Foreign Affairs. "Al-Qaeda gave the order; the Pakistani Taliban executed the attack, possibly backed or at least encouraged by elements of the establishment; the Musharraf government facilitated the crime through its negligence; local senior policemen attempted a cover-up; Bhutto's lead security team failed to properly safeguard her; and most Pakistani political actors would rather turn the page than continue investigating who was behind her assassination," says Munoz.
The U.N investigator tells of how, army chief General Ashfaq Kayani met him under strict conditions and in secrecy, as did ISI chief Lt. General Ahmed Shuja Pasha. But later both generals leaked the story of their meeting to the Pakistani press, describing it as a courtesy call, as if to cover their tracks in case the UN report comments negatively on their responses. General Pasha took pride in the ISI's work, insisted that it was not an investigation agency but also admitted that it was the first to examine the car in which Mohtarma Bhutto was killed. The ISI "had conducted its own investigation of a previous attack on Bhutto in Karachi and had successfully identified and detained four men who had provided logistical support," Munoz asserts. "None of the police or other civilian officials interviewed by the commission regarding Karachi reported any knowledge of such detentions. The same source told us that ISI agents covering Bhutto's fateful event in Liaquat Bagh on December 27 were the first ones to secure her vehicle and take photos of it after the blast, among other actions."
According to Munoz, "On the evening of December 28, the day after former Pakistani Prime Minister Benazir Bhutto was assassinated, Javed Iqbal Cheema, a retired brigadier general and spokesperson for Pakistan's Ministry of the Interior, gave a televised press conference to set out the cause of her death as well as to name those responsible for the shooting and suicide bomb attack. He announced that Bhutto had died from an injury sustained when she hit her head on a lever of the specially designed escape hatch of the vehicle in which she had been touring. He also announced that Baitullah Mehsud, who was leader of the Pakistani Taliban at the time, and al Qaeda were responsible for the attack. As evidence, he presented an intercepted telephone conversation in Pashto, purportedly between Mehsud and a man named Maulvi Sahib, in which Mehsud was heard congratulating Maulvi on 'a spectacular job.'"
But Munoz points out, "Cheema had been given his talking points by the Director General of Pakistan's Inter-Services Intelligence, who had attended a briefing at military general headquarters with Pervez Musharraf, Pakistan's president at the time, and the directors of Pakistan's other intelligence services."
The UN investigator observes that there was a chess game involving Benazir Bhutto's elimination from the political scene through murder. "Many suspect the ISI," he writes, adding "It is no ordinary intelligence service. Beyond the usual duties of gathering information and conducting operations for national security objectives, the ISI, throughout the history of Pakistan, has formed political parties, made payments for political campaigns, rigged elections, and regularly intervened in national politics, contributing to the dismissal of democratic governments. Indeed, the ISI has an entire cell devoted to domestic affairs. According to an ISI source, Bhutto's movements were closely monitored by the ISI, and her 'residences and offices were bugged.'"
The Munoz book is an indictment of Pakistan establishment and its secretive, violent ways. "Probably no government or court of law will be able or willing to fully disentangle the whole truth from that web," he says. "It may well be that Bhutto's assassination will be another unsolved case in the long history of impunity in Pakistan, and that the controversy surrounding her assassination will endure as much as her memory," the UN investigator wrote.