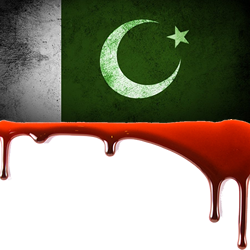 When Raymond Davis shot two men in the street, the nation erupted in anger. The streets were packed with angry souls who demanded justice. As his true identity as a CIA agent became known, anger fueled paranoid nightmares that saw trigger happy Americans in every burger restaurant and behind every boundary wall in Pakistan. Internationally acclaimed Pakistani author Mohsin Hamid expressed this anxiety most eloquently in his piece for The Guardian.
The affair has brought home what should have been obvious to us Pakistanis for a long time. Pakistan has become a game preserve, a place where deadly creatures are nurtured, and where hunters pay for the chance to kill them.
It's a terrifying picture. What makes it all the more terrifying is that, like many nightmares, there is some small piece of truth to it. But, then, like most paranoid conspiracies, it deflects from the reality. Pakistan has become a place where deadly creatures are nurtured, and where where hunters pay for the chance to kill. It's not, though, American Raymond Davises that are killing Pakistanis like game.
16th August 2012: 20 Shias pulled off bus and shot dead
Local police official Shafiq Gul told AFP that the gunmen were masked, but said the victims were pulled from three separate vehicles in the district, which neighbours the Swat valley, a former Taliban stronghold.

"They stopped three vehicles, searched them and picked up people in three batches of five, six and nine and shot them dead. They were all Shias," he said.
20th September 2011: Sectarian atrocity: 29 killed in Mastung, Quetta ambushes
The Shia community in Balochistan came under intense attack on Tuesday when 29 people were killed in two separate, targeted incidents claimed by banned militant outfit Lashkar-e-Jhangvi.

At least 26 people were killed and six others injured in Ganjidori area of Mastung, about 30 kilometres southeast of Quetta, when a group of armed men attacked a passenger bus carrying Shia pilgrims from Quetta to Iran.

Hours later, three more people, hailing from the Hazara community, were gunned down near Akhtarabad area of Quetta as their rescue team made its way to the site of the bus attack. Two others were also shot.
Not CIA. Now RAW. The initials of these killers are LeJ. And the leader of the hunting party is Malik Ishaq, the man invited on stage with Sheikh Rashid, Hamid Gul, Hafiz Saeed, and others of the so-called 'Difa'-e-Pakistan Council. The same Malik Ishaq who was paid by Government Punjab ever since Sharifs came to power in 2008.
In case you are thinking, "Oh but I am not Shia this is not my problem…" please let me remind you that this was not the only terrorist attack inside Pakistan that day. Same day, militants attacked PAF Minhas airbase martyring two soldiers before being defeated by our security forces.
Federal Defence Minister Syed Naveed Qamar Thursday said the terror assault on Kamra's Pakistan Air Force (PAF) Airbase is not a failure of the security institutions, but then, what else can we call it when terrorists plan and carry out attacks on our own PAF base inside our own country? Security is when agencies stop terrorists BEFORE they carry out attacks, not DURING attacks.
It's time to stop making excuses and start defending our nation.
COAS Gen Kayani spoke the following words on the anniversary of the national Independence Day:
"The fight against extremism and terrorism is our own war and we are right in fighting it. Let there be no doubt about it, otherwise we'll be divided and taken towards civil war. Our minds should be clear on this."
Today, this has become crystal clear. If we continue to bury our heads in the sand and ignore the jihadi killers in our midst, it will be all of Pakistan that is eventually buried. There is still time to save ourselves but we must act now to end this open season on Pakistanis.