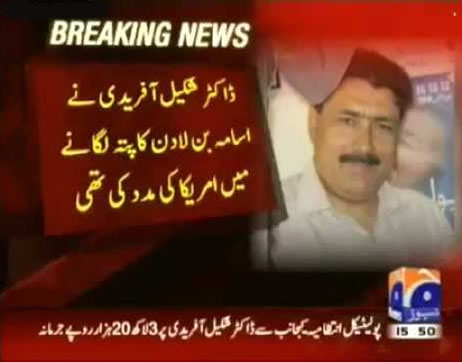 Dr Shakil Afridi was sentenced to 33 years on Wednesday for helping the CIA locate Osama bin Laden. Dr Afridi was convicted by a tribal court on anti-state activities charges, and some are saying that his being charged under FCR instead of the Pakistan Criminal Code (CPRC) saved his life from a death penalty for treason. There is a debate to be had about whether the conviction was fair – Osama bin Laden was not an agent of Pakistan, so how can helping to find him be considered "anti-state activity"? But today I want to discuss a different question that is raised by the conviction.
While Dr Afridi was charged with "anti-state activities", and routinely described as guilty of treason against Pakistan, another court handed down another set of convictions. In the case of the terrorist attack on PNS Mehran which martyred 12 Pakistani soldiers and destroyed critical national security assets in what officers suspected was an inside job, the punishments were a one-year demotion and two six-months demotions. In one of the most devastating attacks against our national security, the worst punishment is a one-year demotion?
For the next 33 years, Dr Afridi will suffer in prison for his part in the raid that killed Osama bin Laden. While the doctor languishes in prison, people responsible for PNS Mehran attack are free. What does this tell about our national security priorities? What does it tell about our system of justice? What does it tell about our chances of ending terrorism in the country?
Former Minister for Law, Justice, Parliamentary Affairs & Human Rights Iqbal Haider observed that "The Mehran Base destruction was not just a loss of our Pak Navy. It was a national loss and it is in our national interest to ensure that none goes unpunished and such dastardly incidents do not occur in the future".
Courts harass politicians with never ending hearings and trumped up charges, while militants come and go, even collecting taxpayer money while they wait. If we continue to treat terrorists with leniency, giving terrorists more rights than honest citizens. The question lingers…when will our patience run out?