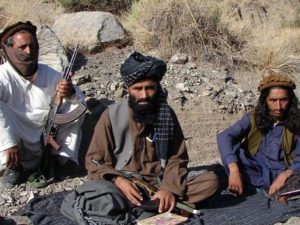 TTP has claimed responsibility for the murder of a Chinese woman who was visiting a market in Peshawar. The reasoning given by Taliban spokesman Muhammad Afridi should send a wake up call.
"Our comrades carried out the attack in Peshawar which killed the Chinese tourist," Muhammad Afridi, a spokesman for a faction of the Pakistani Taliban from the Darra Adam Khel area, told Reuters by telephone from an undisclosed location…Afridi said the militants were also demanding that China halt what he called its support for the Pakistani government's campaign against militants.
Fresh riots in Xinjiang have left at least 20 people dead as Chinese security forces crack down on Islamic militants in the province.
The Xinjiang province's state-run website said nine assailants charged and slashed a crowd of civilians during Tuesday's violence in the Xinjiang community of Yecheng, killing 13 and injuring many others. Police then fatally shot seven attackers and detained two others, the report said.

Earlier state media reports put the overall toll at 12, describing it as a terrorist attack and saying 10 civilians and two assailants were killed. However, an overseas Uighur group, the Germany-based World Uyghur Congress, said local Muslims were lashing out over government oppression and that most victims were armed Chinese security personnel.
Last fall, China pointed to Pakistan as the source of militancy in Xinjiang province, a claim that was brushed aside by many as complete nonsense. Now, Pakistani Taliban are murdering Chinese nationals in the street as 'revenge' for China's crack down militants in Xinjiang. What is our excuse this time?
We continue to hold out hope that we can turn our backs on the West by facing East and finding a new patron in China. We need to think again. No matter how inclined China is to build a close relationship with Pakistan, they are not going to do so at the expense of their own security.
With this recent attack by Pakistani Taliban against a Chinese national, I want to revisit what I wrote last year:
If we believe that this is an internal issues only and that 'all weather friend' China will simply keep to themselves and not interfere in our own situation, we should think again. After all, it was China that ordered Lal Masjid raid was it not? Of course, this only makes sense. Sharing a border with Pakistan, China is not going to allow a rebellion to organise next door.

As a neighbor and growing world power, we would be poorly advised to alienate ourselves from China. It is easy to say that 'all weather friend' China will be there if we turn our back on America. But the truth is that China is not going to sit quietly while militant extremists use Pakistan as a play ground.
If we choose to continue to turn a blind eye to the militant virus that is spreading in our society, we will find ourselves isolated not just from the West but the East as well. The recent militant attack against a Chinese national who was a guest in our country should wake us up from the slumber of denial that has allowed this menace to fester under our very noses. If we rid our nation of extremism and militancy, we will take our proper place among the respected world powers. If we do nothing, we will be a pariah. The choice is ours to make.