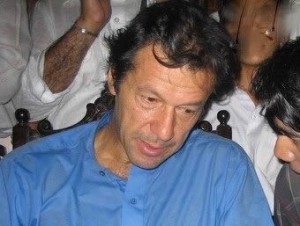 PTI has never managed to do well in the polls. In the 15 years since Imran Khan began his one man political show, the only seat his party has ever managed to win was Imran's. In 2008, PTI didn't even bother to compete in elections. But the past few months have seen the rise of Imran's "tsunami", and hundreds of thousands of supporters turning out to free concerts rallies across the country. But while PTI seems to have figured out a winning marketing strategy, it's still clinging to the same old failed election strategy of the past.
Sitting on the Sidelines
The first glimpse of the PTI "tsunami" is coming up in by seven upcoming by-polls. According to a report in Dawn, the strategy is the same as in 2008 – sit on the sidelines and complain.
In by-polls for five National and two Punjab assemblies' seats to be held on Feb 25, the Pakistan Tehreek-i-Insaf (PTI) being a silent spectator is likely to lose the ground once held by its leaders.

Of the seven by-poll seats, four National and one Punjab assemblies' seats were held by PTI leaders who vacated them to join hands with Imran Khan, chairman of the PTI. Later, as the PTI made a policy not to take part in by-polls, the former parliamentarians are in a fix either to stay away from the process or support their traditional rivals.
Dynasty Denied
One of Imran Khan's PTI Vice-Chairman Makhdoom Shah Mehmood Qureshi wants his son to inherit his old National Assembly seat (NA-148). Imran Khan didn't think he could cover up for such blatant dynastic politics, though, and rejected the idea. Rather than suggest a 'clean' politician for the seat, though, PTI is preparing to run…nobody. According to Dawn, "Mr Qureshi wants his supporters not to vote in by-polls". I guess SMQ thinks that if his son can't inherit his old seat, nobody should have it.
All Kings and No Soldiers
The dilemma with NA-148 is an extreme example, but it is also indicative of a larger problem in PTI. With the induction of big wigs from other parties, PTI has been plagued with the problem of having too many 'Kings' and not enough soldiers. Take former PML-N leader Javed Hashmi. He jumped on the PTI bandwagon in December after feeling that the Sharifs ignored his desire for advancement.
Of course, Javed Hashmi is not the only political big wig to switch to PTI in hopes of a promotion. This has caused all manner of jealousy and infighting among the PTI ranks, even causing Imran to announce that he's going to have to dissolve the whole organisation so that he can come up with a new structure that pleases everyone. Oh, and this new party structure, "will not be elected but carefully selected".
Perhaps no greater example of the impending problem, however, is NA-140 where two PTI big wigs are actually supporting opposing candidates – neither of them representing PTI. Of course, this is just a taste of what's to come once the general elections are scheduled.
Both Ali and Kasuri recently joined the PTI and were aspiring to contest the next general election from the NA-140 constituency from where they contested the last general election from PPP and PML-Q platforms, respectively
Luckily, PTI already has a strategy for this type of problem – nobody runs and everyone can complain about how unfair elections are.
Bad Omen
Ultimately, whether or not PTI has a losing election strategy is not only something that should concern PTI supporters. As I noted, PTI does is good at marketing and they have managed to attract a lot of new supporters lately – that can't be ignored. But we should ask ourselves this: If Imran Khan can't even manage his own party during elections, how is he supposed to manage a government where he doesn't get to reinvent the entire structure and 'carefully select' the players each time things go wrong? Is he going to follow in the footsteps of his political mentor Gen Zia-ul-Haq and persecute opposition members rather than try to find common ground with them?
Mainstream political leaders like Nawaz Sharif, Asif Zardari, Fazl-ur-Rehman, and Altaf Hussain are often disparaged by Imran Khan because they make deals and compromises. But that's how politics works in a democracy. There's no supreme leader who gets to 'carefully select' whoever he wants and ignore or imprison those who disagree with him.
It remains to be seen whether PTI can translate Facebook fans into votes. Imran Khan's 'tsunami' may be more hype than reality, but many sober analysts do believe that PTI has the opportunity steal several seats from PML-N in Punjab during the next elections. Of course, even this possibility requires Imran Khan to get his party in order and to develop a better election strategy than he's had in the past. So far, it's not looking promising.