by Bilawal Bhutto Zardari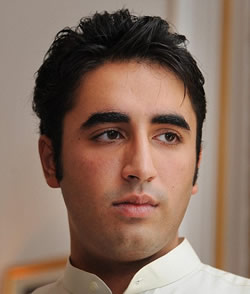 To the world, she was an icon. To me, she was my mother. On the fourth anniversary of that dark day, indelible in the history of Pakistan, when our greatest leader and our best hope was ripped from our lives and our future, I am flooded with emotion. She accomplished so much, but I am most focused on what she might have accomplished had she lived. Like a Pakistan that the Quaid-i-Azam could have lived longer to shape, like the dream she never lived to write, we can never know what might have been.
What we do know is that there are 86,000 more schools because of Shaheed Benazir Bhutto. That, under her government foreign investment quadrupled; energy production doubled; exports boomed. Under her government, 100,000 female health workers fanned out across the country, bringing health care, nutrition, pre and postnatal care, to millions of our poorest citizens. It was under her government that women were admitted as judges to the nation's courts, that women's police departments were established to help women who suffered from domestic violence and a women's bank was established to give micro loans to women to start small businesses. It was under Shaheed Benazir Bhutto's leadership that cell phones, fibre optics and international media were introduced, and the Pakistani software industry blossomed. And it was on her very first day as prime minister, that all political prisoners were freed, unions legalised and the press uncensored. It was an amazing record of accomplishment, made even more remarkable by the constraint of aborted tenures, by constant pressure from a hostile establishment and presidents with the power to sack elected governments.
She never had a free and fair election. She was always under siege. She would say: "We were in government but not in power." Yet she delivered so much. And we can only dream of what might have been had she lived. One thing I am certain of — three-quarters of a billion Muslim women all around the world would have felt empowered, would have rejected limits on their opportunity to learn, to earn, to grow and to lead. Almost two billion Muslims around the world would have seen a modern face of Islam belying the caricature of our great religion in the West and the demagoguery of the jihadists within our own ranks.
Modern, moderate, tolerant, pluralistic and, above all, democratic Islam, would have had not just a face, but a voice, a true leader not afraid to challenge dictators, oppressors, bigots or terrorists. That is what we lost on December 27, 2007. That day the country was on fire. It was ready to rip apart at the seams. With my father's slogan, "Pakistan Khappay", Pakistan was saved from certain disintegration.
With the slogan, "Democracy is the best revenge", we chose my mother's vision of peaceful resolution over violent retribution. We could have demanded a revolution. However, my mother taught me to believe in evolution, not revolution. When she landed in Lahore in 1986, the millions of people who greeted her could have been ordered to storm the dictator's palace and take Pakistan back by force. Yet the PPP has always been careful to distinguish between the army as an institution and the dictator who abuses his position. We have always believed in a strong military under the control of an elected government. Similarly, following the judicial murder of my grandfather, we chose to condemn the verdict and those behind it, but never ransacked the Supreme Court.
We have always supported an independent judiciary and would never let the abuses of individual judges in the past sabotage our mission of establishing a free, impartial and independent judiciary. This is why we knew in 2007 that we had to distinguish between Musharraf and the army as an institution. A strong military is needed in order to protect our territorial borders and defeat the internal cancer of Islamist extremism. The politicisation of this institution under dictatorship engages it in arenas where it has no place and, as a result, weakens its ability to perform its primary function.
Today, we stand by the same principles: in reconciliation and not violent revolution. The evolution of a transition to democracy has already borne fruit. Under the military dictatorship, when our brave soldiers were martyred by terrorists, they were buried in secrecy in the dead of night. It is only once the elected government gave ownership to the fight against extremists and made it Pakistan's war that we can bury our soldiers with honour and proudly announce their martyrdom for their country. It is only under a democratic government that Pakistan finally stood up to demand respect from the United States and to do what the dictator with all his military might could not — evacuate the Shamsi airbase. We have onerous challenges before us, but to face those, we need to secure our foundation. The democratic government, through the National Finance Commission Award and Eighteenth Amendment, gives the smaller provinces a stake in their country and a stake in their own resources, which under dictatorship were exploited by the centre, creating resentment against the federation. Yet even this is not enough. The push for economic and energy reform must go forward, as must our promise to build a Pakistan where education is the path to empowerment.
Had we chosen the path of revolution over evolution on that fateful December 27, both the army and the Peoples Party would have been weakened. That would have left the only other armed group, the terrorists, with the opportunity to exploit the situation and seize control of our country. We must remain committed to the evolution of a democratic Pakistan and reject the calls for confrontation between institutions. My mother died fighting for a Peaceful, Prosperous and Progressive Pakistan. I will never give up on my mother's Pakistan. I will never give up on the woman who sacrificed herself so Pakistan could be free. Her dreams are now my dreams — that is my promise to you; that is my promise to her.
Published in The Express Tribune, December 27th, 2011.