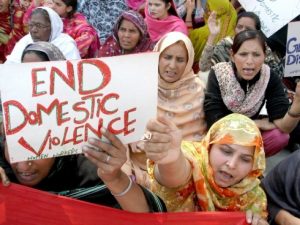 While foreign issues continue to dominate the headlines, progress is being seen on the home front. Cases such as Mukhtar Mai and her mistreatment by some in the media have put the plight of women in the spot light, and the government has responded positively by taking up the important issues of women's rights. It may be too much to term this as 'Year of the Woman', but the many gains in women's rights brought by this government should not go ignored or forgotten.
It was March 2010 that saw President Zardari signing the historic Protection Against Harrassment of Women at Workplace Bill ensuring equal rights for men and women in accordance with the Constitution. At the time, many doubted whether this was simply a political move or if the government would continue to make women's rights a priority.
This week, parliament has passed multiple bills to protect the rights of women. On Tuesday, Senate passed another pro-women bill, Women in Distress and Detention Fund (Amendment) Bill 2011, to provide financial and legal assistance to distressed women languishing in jails of the country. Passage of the bill drew praise from Concerned Citizens of Pakistan (CCP) who urged the president to speedily sign the bill so that it can become part of the law books before year's end.
Passage of this bill came soon after the Senate unanimously passed two other pro-woman bills, Prevention of Anti-Women Practices Bill and Acid Control and Acid Crime Prevention Bill.
The Senate on Monday unanimously passed two private member bills which prohibit forced marriage, marriage with Quran, restricting women to get their rightful share in inheritance and giving women in exchange for settlement of disputes and severe punishment to criminals hurting women caused by corrosive substances.
These bills include punishments of over 10 years imprisonment and fines up to Rs1 million which serves as a stern warning against such acts.
But it is not only these important acts of the parliament that have shown signs of progress for women. Earlier this year we saw the appointment of the first woman Foreign Minister Hina Rabbani Khar who despite being initially mocked for her fashion sense – ridicule that was never suffered by her well-dressed male predecessor – has proven to be a shrewd negotiator and a strong voice for Pakistan.
More recently, MNA Sherry Rehman was appointed as the new Ambassador to the United States, the world's greatest power. Though Sherry Rehman is not the first woman Ambassador to the US, she is known to be a strong advocate of women and minority rights and her appointment has brought more attention to these important issues.
Obviously, the issue of women's rights is one that needs continued attention and the progress that has been made this year has not been enough. But it has been progress, and in Pakistan, we must take care not to ignore progress where we can find it. Today, our mother, sisters and daughters have greater respect and protection than they did since even one week ago. As we continue with this progress, we prove wrong our detractors and those who claim that Islam is anti-woman. Actually, by protecting the rights of women we are updating our laws and our society to make them better conform to the requirements of Islam and the example of Prophet Muhammad (PBUH) who respect for the rights and dignity of all women.