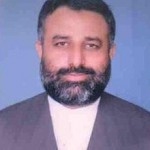 I suppose it was to be expected that Imran Khan's impressive showing last Sunday would trigger a wave of people jumping on the PTI bandwagon. What's funny, though, is how quickly the tsunami is sweeping up an army of yesterday's has-beens. The latest announcement is that Tahir Rasheed has announced that he is supporting PTI. In case you are looking puzzled as I mention the name, don't worry – you're not the only one who's never heard of him. So, to enlighten our energetic youth, let me fill you in on Rasheed's bio.
Sheikh Muhammad Tahir Rasheed's father, Sheikh Muhammad Rasheed, is former MNA nominated by General Zia-ul-Haq and elected in non-party elections for the term 1985-1988. Tahir Rasheed took up the family business in 1990, first as MPA (PML-N) for PP-163 in Multan, then moving up to MNA for NA-116 in 1997. He sat out the 2002 elections since he wanted to take over as Multan Zila Nazim when SMQ left the post to stand for National Assembly. That didn't work out for Tahir Rasheed, though. He tried switching to PML-Q, but that didn't help either and he lost again in 2008.
So now, Tahir Rasheed is hoping that maybe he can ride the new tsunami back into office if he jumps on the wave early enough. What is it they say? Third party is a charm?