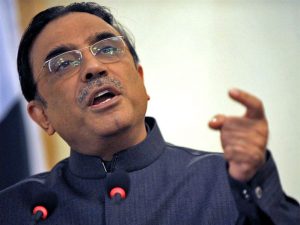 On this day four years ago nearly two hundred fans of democracy and believers in moderation embrace martyrdom when the convoy welcoming the return to the country of the icon of democracy and reconciliation Shaheed Mohtarma Benazir Bhutto to Pakistan after years of exile was attacked by extremists, militants and enemies of democracy.
On this day while we salute all those who laid down their lives in the cause of democracy and against militancy and their bereaved family members we also reiterate our pledge to continue the fight against the militant mindset that has challenged our way of life and value system.
This has been stated by Co-chairman PPP President Asif Ali Zardari in a message on the fourth anniversary of the October 18, 2007 Karsaz attack on the carvan of Shaheed Mohtarma Benazir Bhutto.
The cowardly attack of October 18 itself and indeed the events preceding and following it have demonstrated that the battle against militancy is the battle for the survival of a democratic, progressive, moderate and modern Pakistan where the fate of the people is to be decided by ballot and not by bullet.
The battle lines have been clearly drawn and we will not rest till the militant mindset has been finally defeated, he said.
The nearly two hundred Jan-nisaran-i-Benazir and proponents of moderate and modern Pakistan laid down their lives in this central and existential battle so that the future generations could live in peace, dignity and in accordance with the democratic ideals, the President said in his message adding, "their sacrifices will not go in vain".
We salute their courage, devotion and loyalty and for inspiring us to lofty goals, the PPP Co Chairman said.
President Zardari said that on this day four years ago Shaheed Mohtarma Benazir Bhutto triumphantly returned to the country to what she herself had said, "to bring change to my country by empowering its people and building political institutions'.
Following in her footsteps the PPP wishes to reiterate its pledge "to bring change, empower the downtrodden and rebuild the institutions".
The President also paid tributes to the armed forces, the civil law enforcing agencies and the people who have made untold sacrifices in the fight against militancy and reiterated that the government will root out militancy and extremism no matter what the price.
The PPP Co chairman said that the Party had taken some measure to rehabilitate the families of those who laid down their lives to protect Shaheed Mohtarma Benazir Bhutto as its duty towards the heroes of democracy and also do much more.