I have to admit that I have been baffled by something for some time. As recently as a few weeks ago, Nawaz Sharif was holding to his statement that the democratically elected government should complete its term. I've praised such statements in the past not out of any love this government, but because it is a sign of political maturity and moving away from past political strategies that were willing to sacrifice national progress for quick political gains.
But recently we've been hearing all sorts of noise from PML-N leaders about how the government is at war with judiciary and talking about revolution in defence of the justices. Then I realised – this has nothing to do with PPP at all, but rather is all about PTI:
Pakistan Tehrik-i-Insaf Chairman Imran Khan has urged the Supreme Court to charge the federal government with contempt for not implementing 18 major judgments and said the PML-N's stronghold, Lahore, will turn into a PTI stronghold in the next general election.
Imran Khan said this while launching of PTI's "Jaag Utho" campaign — his latest movement on Facebook and another example of why his political party has earned the name 'Pakistan Tehreek-e-Internet'.
And that's when it dawned on me – Nawaz is scared. Not of Zardari and PPP. He knows PPP, he's known them for years and knows how to campaign against them. No, Nawaz Sharif is scared of Imran Khan. And he's reacting by serving up some extra salty fries in hopes of attracting Imran Khan's army of burger bacchas to his tent.
Fear of PTI is beneath the PML-N. Muslim League is not a video game for disgruntled college students to play while procrastinating their studies, and Nawaz Sharif is not a divorced London play boy desperately trying to cling to the spot light after the test has ended.
Nawaz Sharif is a former Prime Minister and a successful businessman. In the last elections, his party won 91 seats in the National Assembly, and 171 in Provincial Assembly Punjab. After such a poor showing in 1997 and 2002, PTI didn't even bother to show up in 2008. That year, PML-N won 6.7 million votes. Compare to PTI's 95,000 Facebook fans, many of whom  are not even eligible to vote in Pakistan. In elections, it's the citizens of PAKISTAN who count, not the "netizens" of Facebook.
This is not to say that anyone who supports Imran Khan doesn't count. It's to say that just because they have Qubee wireless cards and designer sunglasses, their vote still only counts as much as the chai wala's. This is also why so many PTI walas say that the poor and illiterate shouldn't be allowed to vote. They may wear black instead of khaki, but the mindset is the same.
Political leaders like Nawaz Sharif, Altaf Hussain, Asfandyar Wali Khan, Chaudhry Shujaat Hussain, and Asif Zaradri spent decades traveling from village to village and listening to the common man about their needs and their hopes and dreams. Have these leaders done a perfect job of meeting those needs? Far from it. But let's not forget that they haven't really been given a chance, have they? Zardari spent 11 hard years in prison on trumped up charges. Nawaz Sharif's term was cut short by a coup and he was forced into exile. Altaf Hussain is still missing his home.
While Pakistan was struggling through its most difficult times, where was Imran Khan? While real leaders were suffering for their people, Imran Khan was partying in London nightclubs and basking in the sun in Mumbai.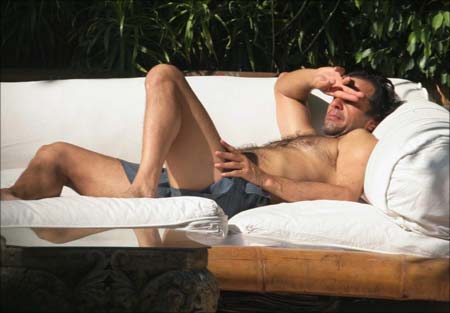 So, please, Mian Nawaz, don't worry about Imran Khan. He may have an impressive head of hair, but even this is just like his dharnas and his whole Tehreek-e-Internet – it's all show, and no substance. You're better than that.