Afghan news agency Tolo News reporter Shakeela Abrahimkhil wrote on Tuesday that Gen (retd) Hamid Gul has asked Mullah Omar to leave Pakistan. The reporter spoke with Afghan security officials who told that the ISI has requested Mullah Omar to leave Pakistan immediately. According to the reporter the message was conveyed by Hamid Gul. But Hamid Gul is not an active ISI officer as he retired in 1992. So what is Hamid Gul doing talking to Mullah Omar, and how does he maintain contacts with such wanted persons?
The answer may be found in Hamid Gul's own statements and actions. He has claimed in the past that his support for Taliban has "no physical dimension" but despite retiring in 1992 Hamid Gul has been seen and even photographed at meetings with militant leaders. Respected journalist Zahid Hussain wrote in his 2007 book "Frontline Pakistan" that Hamid Gul even attended a 2001 Darul Uloom Haqqania Islamic Conference which declared a religious duty to protect Osama bin Laden and termed the al Qaeda leader as "great Muslim warrior".
Following 26/11 attacks on Mumbai, government officials acknowledged that Hamid Gul is "godfather" of jihad in Pakistan and Gul himself even admits he is a member of Ummah Tameer-e-Nau which has been linked to al Qaeda and other terrorist groups.
Hamid Gul continues to protest his innocence and say that he has no connection to militants and that he is only a simple retired man, but the photographs and news reports and even his own words tell a different story.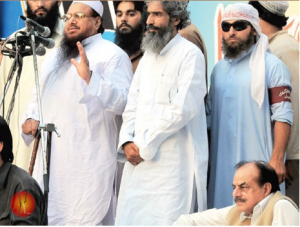 Now the media is reporting that Hamid Gul is having direct contacts with Mullah Omar.
Hamid Gul said on CNN that he has not visited an ISI office once since 1989. Therefore it means that his connections with militant groups are taken on his own and are not part of ISI or official government policy. As national policy is to fight militants, then Hamid Gul must be working against the nation. What other explanation can there be?
The question then becomes whether or not we will continue to allow someone to support foreign fighters coming into Pakistan and using the country as a base of 'strategic depth' against US, NATO, Afghanistan or any other country. According to Al Jazeera reports is is not only against US and NATO but Taliban has declared war against Pakistan also.
And this is not an idle threat being made. 100 jihadis attacked a security check point near Peshawar killing Pakistani police officers. They have declared war on Pakistan and have begun their offensive.
So…Whose side is Hamid Gul on?