The term 'Ghairat Brigade' has been used sarcastically to describe those media talking heads that chatter on endlessly about the national honour without actually doing anything to improve the nation itself. 'Honour' for them is nothing but a rhetorical weapon used to distract people from real issues. The sarcasm, however, seems to be lost as these hyper-nationalists and pseudo-patriots have responded by terming people who want to see a modern and successful Pakistan as Bayghairat Brigade. If the government is not going to conduct a full investigation into how Osama bin Laden was living in Abbottabad, maybe we should do our own.
The past few days I've been getting links to this video of some American conspiracywala talking to none other than Gen. Hamid Gul on the phone about how the whole thing was a fake. Somehow because he's talking to a gora people think it must be a legitimate show. The guy Gen Gul is talking to, though, is not a real journalist, he's a conspiracy theorist whose other guests include "experts" on how the world is being invaded by 'reptilian shapeshifting' aliens from outer space. Actually this is probably the best program for Hamid Gul to appear as a guest. He fits right in with the other clowns.
What is worst about Hamid Gul, though, is that he's not just another paranoid schizophrenic ranting about alien invasions. He's a former DG ISI who has been actively encouraging an invasion of Pakistan by foreign jihadis and their alien ideology.
In 2010, Al Jazeera asked Hamid Gul about evidence from Wikileaks that points to Hamid Gul aiding the Taliban. Of course, he immediately dismisses this evidence as the product of Afghan intelligence, RAW and Mossad. The Al Jazeera anchor jokes about this ridiculous claim saying, "they must be very busy with 90,000 reports". Oh, maybe Al Jazeera is infiltrated by RAW and Mossad too!!!
Hamid Gul says that he's merely a simple retired man who may have moral support for the Taliban but "there is no physical dimension to it". Really? The Wikileaks documents revealed, for example, that far from no physical dimension, Hamid Gul was meeting with militants in South Waziristan. And he has physically joined rallies with Hafiz Saeed also.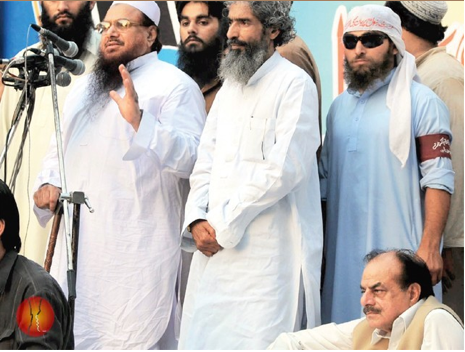 Actually, when he's not in the hot seat, Hamid Gul tells a completely different story .
General (r) Hamid Gul is another maverick gung-ho about Iftikhar Chaudhry's restoration. But he also makes the peaceniks mad with his call for jihad and continues to spread his 'poison' against America. "I am controversial. People either hate me or love me," he blusters. Gul wants Shariat enforced in Swat "but it must be based on the Holy Quran which does not prohibit education for girls." The ex-ISI chief is Taliban-friendly: "Their resistance is keeping the wolf (US) away from the door," he says. As a sympathizer of Osama bin Laden, he declares: "In the absence of evidence (that he masterminded 9/11), I'm not prepared to call him a blood-thirsty animal." And hence, he's chums with beards of all shades and size who want to take Pakistan back to the age of jahiliya.
And for providing only moral support with "no physical dimension", Hamid Gul knows intricate details about al Qaeda attacks against Pakistan.
The suicide bomb that targeted the hotel in the heart of the capital, killed at least 53 people and injured more than 266 others, a short distance from the country's parliament building.

There were conflicting reports that Pakistan's political and military leaders were expected to dine at the hotel on Saturday night and changed their plans at the last minute.

Former Pakistani spy master, Retired Lt. General Hamid Gul said that the militants had watched their target for days and then selected a vehicle carrying construction materials and loaded the vehicle with over 600 kilogrammes of explosives.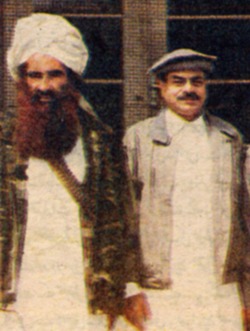 Even today he openly provides plans for supporting militants live on TV. On Khari Baat he said that as a professional soldier he recommends that cutting off supply lines for 15 days would defeat the international forces in Afghanistan. Are these the words of a retired man or a rogue element? After all isn't it his old friends from the glory days that he's still supporting?
One of the common points being made is that the US and Pakistan don't trust each other and that the Americans think there are some elements connected to ISI that are against cooperation. Why would they think that? Maybe because the former DG ISI is going on live television almost every day and giving these statements! Honestly, I find it hard to believe that Gen Pasha and current ISI were involved with Osama. What would they gain from this? But current officers need to stop protecting people like Hamid Gul who have clearly gone rogue. Loyalty is one thing, but aik gandi machli pooray talab ko ganda kar deti hai.
Hamid Gul is no patriot. He's a washed up war mongering jihadi who has done more harm to Pakistan's honour than any liberal writer. How many Pakistanis have to be killed by Hamid Gul's old war buddies before playing jihad before we stop defending these guys. Whatever honour Hamid Gul had in the past is gone. He is the worst of the Bayghairat brigade and should be treated as such.