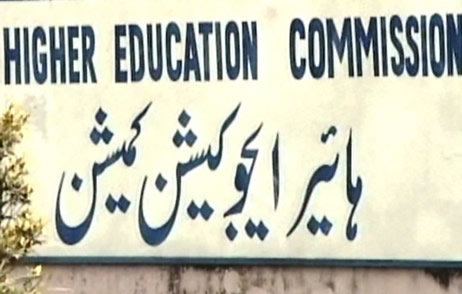 Judging by newspaper headlines and TV talk shows, one might be forgiven for thinking that devolution of the HEC will result in the end of education in the country. What a bunch of non sense. If we take an objective look at the HEC – and the status of education more generally – it is quite clear that the HEC is simply not worth defending.
Attaur Rahman, former chairman of the HEC, writes in The Express Tribune that the central planning by the institution is required to produce graduates needed to build the country's economy.
The minimum quality requirements and the numbers of engineers, scientists, doctors, economists and social scientists needed for nation-building have to be determined through careful central planning regarding human resource requirements in various sectors. A multiplicity of standards and regulations would be disastrous. That is why the world over, including in India, higher education planning and funding is done centrally, even though universities are located in the provinces.
But the US, which has the world's highest standard for higher education, does not practice central planning, nor does it set a uniform national curriculum. Actually, quite the opposite. US schools compete with each other by setting their own standards and curricula and, through this competition, raise the quality of education all round.
In fact, an article in The Wall Street Journal looks at the state of higher education in India and concludes that despite praise from Attaur Rahman, the centralized bureaucracy has created graduates 'unfit' for good jobs.
Business executives say schools are hampered by overbearing bureaucracy and a focus on rote learning rather than critical thinking and comprehension. Government keeps tuition low, which makes schools accessible to more students, but also keeps teacher salaries and budgets low. What's more, say educators and business leaders, the curriculum in most places is outdated and disconnected from the real world.
This is not unlike the 'good work' done by the HEC. Attaur Rahman lists various awards received by the HEC, but awards only create economic growth for HEC chairmen, not for the rest of the nation. And let us consider what Dawn listed as the successes of the institution last week:
For instance, since its coming into being in 2002, the number of public sector universities and degree awarding institutions almost doubled from 59 to 127 while student enrollment went up from 135,000 to 400,000. Thanks to the HEC`s efforts, the country produced 3,037 new PhDs from 2003 to 2009; compare this to the 3,281 scholars we produced from 1947 to 2002.
What difference does it make if HEC is increasing the number of degree awarding institutions and producing new PhDs when the result is universities and think-tanks producing graduates that are not prepared to compete with graduates from other countries? What good is a national curriculum that parrots a failed establishment ideology instead of teaching critical thinking and complex problem solving?  And, please, let us be honest. HEC has not even been able to impose uniform standards or managed even to implement its own rules in a consistent manner as many defense institutes choose to defy HEC mandates and operate under their own regimes.
What is truly telling, however, is that many of the people most loudly demanding that the HEC continue as is went to school overseas themselves and would never allow their own children to attend schools under HEC supervision.
We deserve better.
Let's have a real discussion about education in this country, shall we? We currently spend around 2% of GDP on education. This is unacceptable. A report by Ahsan Iqbal published by The Pakistan Education Task Force concludes that,
The truth is that Pakistani policymakers have little handle on what is currently being spent on education. We need urgently to gain greater clarity over the current situation and also to analyse what needs to be spent if governments are to meet their constitutional obligations on education.
Ahsan notes that this cannot be done by provinces alone, but neither has it been done under the authority of the HEC. That he why he insists that answer lies in a new approach, on in which
"Both federal and provincial governments need to work together, assisted, if necessary, by Pakistan's top economists to discover what we know about financing, and – as importantly – what we don't know."
The sad fact is that we are failing our children when it comes to education. And by failing our children, we are failing our own future. No matter how many 'degree awarding institutions' are opened, it will mean nothing if we continue to ignore the persistent problems with providing basic education to millions of our own citizens. And, here's an uncomfortable fact, a real solution to the education emergency will require that you pay your taxes.
Education emergency is a problem that must be addressed honestly, sincerely, and seriously. Not with sensational threats about losing hundreds of millions in USAID and World Bank funding. International donors are not interested in HEC patronage or ideologies of central planning. They will help fund any education program that works.
We need to stop putting politics above our children's education by defending the 'status quo' out of a misplaced sense of political gamesmanship. The HEC may have had some successes, but it had not brought Pakistan's education system to the world class standard that we deserve. Central planning has not worked in India, and it has not worked in Pakistan. It's time to try something new.
19 total views, 1 views today