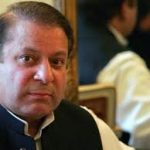 Mian Nawaz Sharif has undergone a successful heart surgery in London and has been advised to complete a bed rest for recovery. We wish the PML-N chief a speedy and healthful recovery.
Additionally, there has been much outpouring of support for the PML-N chief from those who may disagree with him on certain issues or belong to a different political party.
Journalist and commentator Nadeem F. Paracha wrote on Twitter today,
Mian Sahib, get well soon. I may have serious disagreements with your party, but Pakistan needs every local democrat alive and kicking.
Another journalist Beena Sarwar echoed this sentiment also.
Nawaz Sharif, get well soon. We may disagree, but #Pakistan needs every local democrat alive & kicking
Additional well wishes came from Ambassador to the US Husain Haqqani and MNA Farahnaz Ispahani, both PPP stalwarts.
Also wishing the former PM a speedy recovery include President Zardari and PM Gilani. In addition to the proper etiquette of basic human decency, this is also a healthy sign of respect for the democratic process in which we can disagree with each other's ideas without feeling a personal animosity towards our political opponents.