The Raymond Davis saga took a turn for the worst over the past few days as principled leadership on the issue has been sacrificed on the altar of political ambition and populist groveling. The explosive statements of former Foreign Minister Shah Mahmood Qureshi has changed his reputation in the media from an American puppet to a Ghazi almost overnight. We should stop and ask ourselves if what is really going on is as it is being spun in the media (that would be a first) or if perhaps this new story line is once again not exactly as it seems.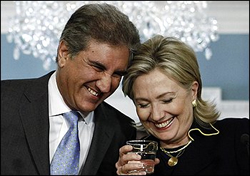 First let me say that a lot of people have taken to attacking Mahmood Qureshi, which is unfortunate. He's not a bad guy. Actually, he's really smart and capable man, if a little out of his element lately. Trying to define him as a demon does not do anything for the case of reason and rule of law over rule of mobs. Unfortunately, those same people who would demonize him as an American puppet last week are now ready to present him with his very own laal topi and declare him as one of the faithful. So let's throw out all the self-serving statements and take a look at the facts.
Qureshi's recent behaviour is unfortunately not out of the ordinary. Between Rehman Malik's telling that he will kill blasphemers with his own hands and Babar Awan's trying to trade Raymond Davis for Aafia Siddiqui as if he were a bakriwallah bartering in a market and not Law Minister – too many of our politicians continue to play to the populist gallery rather than provide real leadership on hard issues.
When I first read Malick's column in the The News I thought, 'this is rich'. Suddenly the Americans' darling Mahmood Qureshi is now their victim? The whole thing seemed a bit too tidy to me. It was just too convenient a headline. But there was more to the article than simply the headline that bothered me.
According to Malick, this supposed story starts in a high level meeting in Islamabad that was attended by President Zardari, Prime Minister Gilani, Babar Awan, Rehman Malik, Shah Mehmood Qureshi and the DG ISI Gen Shuja Pasha. Let's stop here for a minute. If this is the cast of characters who was in attendance, it means that one of them has to be the leak. Reading the rest of the article, it's clear that the source for Malick's article is none other than Qureshi himself. This becomes even more clear as more articles begin pouring into the media with quotes from Qureshi which shows that the man whose silence got us into this mess is now incredibly accessible to every journalist in the country. So we must ask what is the purpose of Qureshi leaking his own story to The News which is not exactly a mouthpiece for the government?
And let's consider Qureshi's previously impenetrable silence, can we? The shooting that started this whole mess happened three weeks ago. According to Qureshi now, he has "strongly argued the case that Raymond did not enjoy unlimited diplomatic immunity under law, flatly refused and even said that if need be, he'd rather resign".
Really? Since when? Because everyone has been demanding that the FO decide the question of diplomatic immunity for weeks and Qureshi was nowhere to be found. If he was really being pressurized to act against his convictions and was so adamant about resigning rather than facing the tune, why did he never resign? In fact, it's only since he's been sacked that Qureshi has suddenly found this adamant conviction on the issue.
And then there's the issue of Qureshi's sacking, which wasn't really a sacking at all. When the PM dissolved the cabinet in order to reduce the bloated number of ministers and began making reappointments, it was decided to offer Qureshi a new portfolio – Water and Power. Unfortunately, Qureshi felt that he deserved foreign affairs, and if he wasn't given the position he wanted, he was going to take his ball and his bat and leave the game. In fact when he was supposed to be sworn in as a cabinet minister, he didn't bother to show up at all, rather he sent a terse note saying, "I am not interested in water and power ministry in place of foreign affairs". This is a curious response to the offer of a cabinet portfolio, a position for which only a handful of people are selected out of the 180 million citizens. Could it be that Mr Qureshi's reason has fallen prey to his personal ambitions?
And rather than a punishment, offering a cabinet position to Qureshi was actually something of a token. After all, has there not been constant frustration with his performance as FM over the past years? Manmohan Singh blamed Qureshi personally for his poor handling of talks last summer. This was an ongoing problem that Qureshi had, pushing his Indian counterparts away when it was his job to hold talks and find solutions to issues. And it was under Qureshi's guard that India has become considered for membership in the Nuclear Suppliers Group, while Pakistan remains without a civilian nuclear deal. Also he has taken great criticism from diplomats such as Tayyab Siddiqui for his comments on Iran.
He skipped the SAARC meeting in Bhutan last month, and in the midst of the negotiations over Raymond Davis, he even skipped a meeting with an American delegation last week. More on that point: As I stated earlier, if Shah Mahmood Qureshi truly felt so  adamant about Raymond Davis's status, why was he silent and missing in action for the past weeks? Why did he not make statements when it could have mattered? If he was actually being pressurized, why did he not resign then? He said himself that he would have kept his position of FM if it was offered, so don't try to have it both ways please.
And let's not forget that it was only a few short days ago that the Foreign Office under the leadership of FM Qureshi stated that Raymond Davis at a minimum does enjoy at a minimum "partial immunity". Then Salman Bashir calls the newspapers and says that if he committed some immoral act, he would not request diplomatic immunity for himself, which is essentially admitting that Raymond Davis does have diplomatic immunity, but it is annoying to the FO. This is another example of the failure of the foreign office by trying to have everything both ways. Whether or not Salman Bashir would invoke diplomatic immunity is irrelevant – Raymond Davis has invoked it. If Qureshi was unable to make a decision one way or the other, the country needed someone in the Foreign Office who could.
But the problem is not just Qureshi's failure to act on principle. We're also seeing other leaders like Babar Awan trying to barter Raymond Davis for Aafia Siddiqui as if Islamabad was filled with goat traders at a market, or Altaf Hussain comparing apples to peaches by saying that "Just the way US court gave the decision of Dr. Aafia's case, US must also wait for Pakistani court's decision on Raymond's case". Whether or not Aafia should be repatriated, she has no claim to diplomatic immunity, so her case is nothing like that of Raymond Davis.
Last fall, Shah Mahmood Qureshi warned against being influenced by concocted messages sent through media over Pak-US relationships. He now seems to be playing the same game. Unfortunately, he is not the only one doing so. It is now three weeks since the tragic incident that has brought diplomatic relations with the US to stand still. As Foreign Minister, Shah Mahmood Qureshi could have ended this mess weeks ago by declaring Raymond Davis's status one way or another. But when Qureshi had the opportunity to speak, he was silent. Now that his opinion carries no consequences to his own skin, suddenly he has found his voice. Elsewhere, our political leaders are asking the courts to help them out of a difficult situation and making populist speeches and goat trading to protect their own hides. The courts are telling those responsible in government to please do their jobs. Outside in the street it is the same as in the media – we are blinded by ghairat when the situation requires objective reason.
Again let me state that I do not think any of these are bad, dishonest, or incompetent people. I think the problem is one that is a larger problem in society. We allow issues to be hijacked by people who use emotional blackmail to keep us from using our brains. As a result,  good and capable men lose all sense of reason and proportion.
At present, everyone appears to be playing hearts and demanding to take the trick. But spades are trumps in this game, and diplomatic immunity is the ace of spades. If Raymond Davis plays the trump card, he takes the trick no matter how many hearts are thrown. But we should also keep a sense of proportion. The Raymond Davis case is only one trick and it is not for game. We need to stop acting like it is for all the chits. We need leaders with the courage and principles to play by the rules instead of trying to upend the table when they don't like their hand.