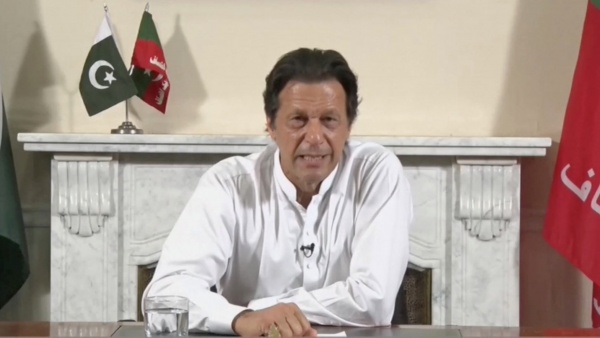 The New York Times recently wrote an extremely optimistic piece on Prime Minister elect Imran Khan.The NYT Editorial referred to Mr Khan as "A New Batsman for Pakistan" and asserted that he had led "his political party to an equally impressive victory in Pakistan's national elections."
The NYT opined that Pakistan had "reached a turning point that could possibly alter its dysfunctional trajectory." Noting that Imran Khan brings "more star power and mystique than any recent Pakistani leader and perhaps a better chance to change the country's narrative" the NYT stated that he "could use his fame and charisma to reset Pakistan's troubled relations with the West." While admitting that the elections were "widely considered tainted" the NYT admitted that "many parts of the country are safer today than they were a few years ago" and that Imran would help the country because "he'll visit foreign capitals and business titans, seeking help to solve Pakistan's dire debt crisis and bring in investors."
The NYT is a rare semi-optimistic Opinion piece on Imran Khan but then the NYT also wrote this glowing praise of Nawaz Sharif's victory in 2013. Then NYT had spoken of Sharif "once a political exile deposed by the military" returning to "the cusp of power" and "taking a commanding lead in a parliamentary election in which Pakistanis braved Taliban intimidation to cast ballots with historic prospects for the country's democracy." Further, the Times noted a "record turnout in several cities, incited by an energized political campaign." Speaking about "vibrancy of Pakistani politics" and that these elections "evoked a rare sense of enthusiasm for politics in Pakistan."
In 2008 the New York Times spoke about the "crushing defeat" sustained by former military dictator General Pervez Musharraf's party by the Pakistani electorate, the "resounding victory of the two parties [PPP and PMLN]" and "signaled a change in direction after eight years of military rule."
Imran Khan has a huge burden to overcome as he is taking over power amidst allegations of rigging and being viewed as the sponsored 'favorite' of Pakistan's military intelligence establishment.
Every few years both Pakistanis and the international community raises its hopes and expectations about Pakistan and these hopes are dashed. Why is it that this optimism is dashed every time?
Pakistanis in general and their sympathizers outside need to examine this. Maybe the reason is there is a naïve belief that change in the Chief Executive is all that Pakistan needs to rectify its problems and challenges. That the only thing lying between a prosperous Pakistan is a corrupt politician and once you bring in someone new things will change automatically.
But maybe something else is wrong!
For example, why cannot the military retreat from politics and let the politicians make decisions?
Also, why is it that every civilian politician is accused and removed from power on the grounds of corruption?
Why cannot Pakistan have normal relations with all its neighbors: India, Afghanistan and even Iran?
If Imran Khan can address these fundamental questions then Pakistan will come out in a better place.
If, however, Imran cannot address these questions then there will only be a re-run of the past.