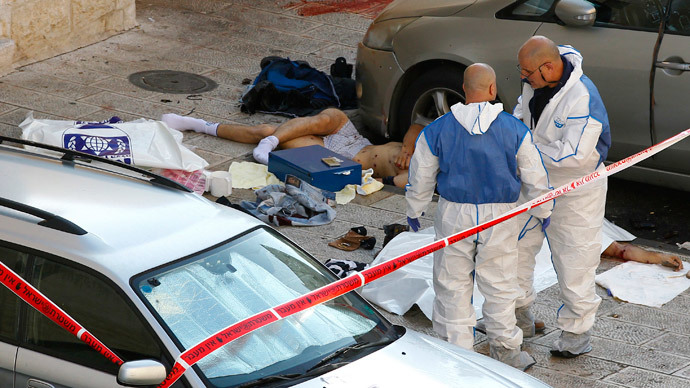 Four people were killed in a Jewish synagogue in a terrorist attack carried out by militants from Abu Ali Mustafa Brigades, military wing of the Popular Front for the Liberation of Palestine. Israel has threatened to respond 'with a heavy hand' in order to prevent copycat attacks. This tit-for-tat strategy is more likely to result in new attacks, though, not prevent them, so the real question is not 'if' there will be more attacks but 'when'. Of greater concern for us, though, should be whether the next attack will have a Pakistan connection.
While most attention is being paid to questions about Pakistan's willingness or ability to target Afghan-focused jihadi groups like Haqqani Network, Mehsud Taliban, and Punjabi Taliban, there is another less discussed effort to recruit jihadi fighters from Pakistan to carry out attacks in Israel.
Hafiz Saeed's efforts supporting jihad against India are well known, but what is less reported are his increased efforts to recruit fighters for jihad against Israel also. Beginning in July, the Jamaat-ud-Dawa chief began openly recruiting jihadis to travel to Israel. Now, it seems his efforts have paid off.
Falah-e-Insaniat Foundation, the latest name used by Jamaat-ud-Dawa, has started operations in Gaza.
#Gaza we are with you…… Falah-e-Insaniat Foundation Pakistan #FIFRelief #GazaIsNotAlone pic.twitter.com/hIshQ8Zghy

— FIF Pakistan (@FIFPakistan) November 5, 2014
FIF has opened its offices in Gaza under the guise of disaster relief, just as is done in Pakistan, but the reality is more likely that these operations are being used as a front to raise funds and recruits for jihad. Here is what Jamaat-ud-Dawa chief Hafiz Saeed has said recently:    
We will follow Umar ibn Khattab's (RA) policy and adopt the straightforward methodology to oust the Jews from Arabia #GazaSolidarityDay

— Hafiz Muhammad Saeed (@HafizSaeedJUD) August 17, 2014
Umar ibn Khattab RA clearly said that peace cannot prevail if Jews remain settled in the Palestinian territories #GazaSolidarityDay — Hafiz Muhammad Saeed (@HafizSaeedJUD) August 17, 2014
Pakistan considers Palestine its own part, We will defend them with Lives and Wealth. #LailahaiIlallah #Gaza #RedBand — Hafiz Muhammad Saeed (@HafizSaeedJUD) August 3, 2014
We ask Muslim leaders to take action against Israel & defend innocents, If not then Muslims with #RedBand on forehead will defend #Gaza — Hafiz Muhammad Saeed (@HafizSaeedJUD) August 3, 2014
Does it sound like humanitarian work?
In the past, Hafiz Saeed's jihadi operations have been largely limited to Kashmir and some in Afghanistan. These have been tolerated because they are seen by some as in Pakistan's interests. By giving Hafiz Saeed free reign, these elements have also given him a sense of invincibility that has caused him to expand his aims beyond his dreams of Ghazwa-e-Hind to much more global ambitions including leading jihad against Israel.
Innocents in Gaza must be defended, but the only way to save them will be to stop the violence, not increase it. Giving Hafiz Saeed enough rope will not hang Israel, but it very well could hang Pakistan.