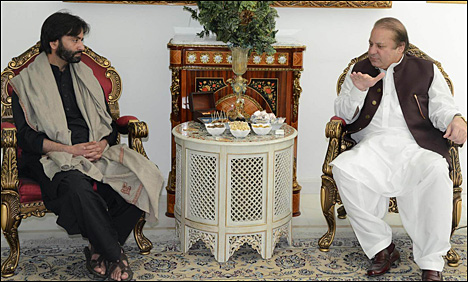 All attention in Pakistan has been focused on the dramas and concerts being staged in Islamabad since the past week, but outside this insulated bubble, life goes on and the world continues to turn. Important, even critical, events have taken place that have received little to no attention despite the fact that these are likely to have much greater impact on Pakistan's future than retired cricketers and Canadian expats.
Serious inquiry needs to be made into the massive diplomatic blunder that led to Indian canceling talks after Pakistan's High Commissioner Abdul Basit announced plans to meet with chairman All Parties Hurriyat Conference Syed Ali Shah Geelani, Jammu Kashmir Liberation Front leader Yasin Malik, and chairman All Parties Hurriyat Conference Mirwaiz Umar Farooq.
Meetings between Pakistani diplomats and Kashmiri separatist leaders are nothing new, but this time the Indians requested that Pakistan hold off on the Kashmiri meetings and talk to India first. Instead, the Foreign Office chose to snub India and meet with the Kashmiri leaders only. This was a major diplomatic blunder, and one that demonstrates a failure to think strategically.
Putting off meetings with Kashmiri leaders would not have meant abandoning Kashmir, but it would have sent a signal to India that Pakistan is willing to make some sacrifices in the interests of improved relations. This would also have given Pakistan a moral upper hand, showing that Pakistan is willing to take difficult decisions in order to advance the cause of peace.
Worst, one of the Kashmiri leaders, Yasin Malik, told the media that violence may increase.
Yasin Malik, a Kashmiri leader, said: "This shows India does not want to discuss the Kashmir issue with Pakistan, only trade. They are pushing the new generation of Kashmiris on to the violent path."
This is a fundamental failure in our strategic thinking about Kashmir. We operate from an incorrect assumption that all of Kashmir must be freed from Indian control as a precursor to any other agreements. History suggests the opposite.
China has never given up its territorial claim to Taiwan, yet China does not refuse to meet with other countries unless the issue of territorial integrity is at the fore. Instead, China uses issues like trade as an opening for dialogue as part of a long term strategy to re-integrate the territory under Beijing.
By choosing to meet with Kashmiri leaders at the cost of talks with India, Pakistan once again looks like an obstinate country that is unwilling or unable to find ways to work with its neighbors. We have also demonstrated an inability to 'see the bigger picture' and use incremental steps as a path towards a long term goal. Ironically, by always trying to force a short term solution on a long term problem, we are actually making it less likely that Kashmiris will see either freedom or peace.