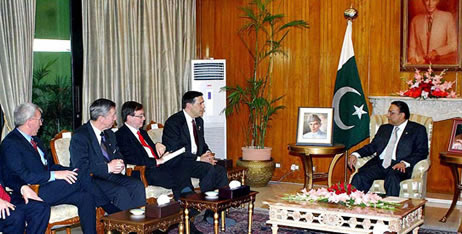 Raymond Davis continues to dominate the headlines, but the rest of the country has not ceased to function in other vital areas, especially on the economic front lines. This week two important points of note have been largely overshadowed by the diplomatic brouhaha but should not be overlooked.
The first item of note is the statement of Federal Minister for Information and Broadcasting Qamar Zaman Kaira that exports are expected to reach US $ 22 billion mark, a new record for international trade.
Additionally, President Zardari took the opportunity of a meeting with a delegation of American Congressmen to make the case for opening US and international markets to expanded trade from Pakistani business.
"Our priority is trade, and not aid. We need preferential market access to support our economy against the dire impact of the ongoing struggle against militancy on one hand, and to rehabilitate and reconstruct infrastructure damaged by devastating floods on the other," he said.

The president said a long-term and stable equation marked by close collaboration and multidimensional cooperation between the two countries guaranteed not only development of the country but also peace and stability of the region.

The members of the delegation praised the country's struggle against militancy and promised continued US support in this regard to the people and government of Pakistan.

President Asif Zardari reiterated his call for expediting the ROZs legislation to create economic opportunities in areas ravaged by militancy.
The government has made clear that the courts should be given time to consider the facts and make a judgment in the Raymond Davis case. Meanwhile, strengthening the domestic economy correctly remains as the top government priorities.