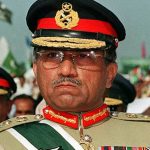 Old Mushy has let the cat out of the bag, hasn't he? For all his talk about democracy and the constitution, the old tiger can never change his stripes. He's still talking about forming his own political party, of course, but now he's also talking about expanding the military role in government. Does he think we've already forgotten?
Musharraf said the armed forces need to play a larger political role, as he discussed plans for his own bid to return to power as a civilian. Musharraf confirmed that he would launch a new political party in London on Friday to contest the next elections in 2013 but refused to say when he would return to Pakistan, where he could face treason charges.

He said the army should have a constitutional role, rather than an informal position in the country's leadership and asserted that the army should play its part in keeping checks and balances and ensuring good governance. He was speaking in a public interview with former British ambassador to the US Christopher Meyer.
You have to hand it to him. He's finally showing his true self, even asking for more constitutional changes when we haven't even finished undoing the constitutional mess he made last time!
The fact that Musharraf has the cheek to criticise the present government for not doing enough against militants, though, really made me laugh. Laugh or cry, I'm not sure which.