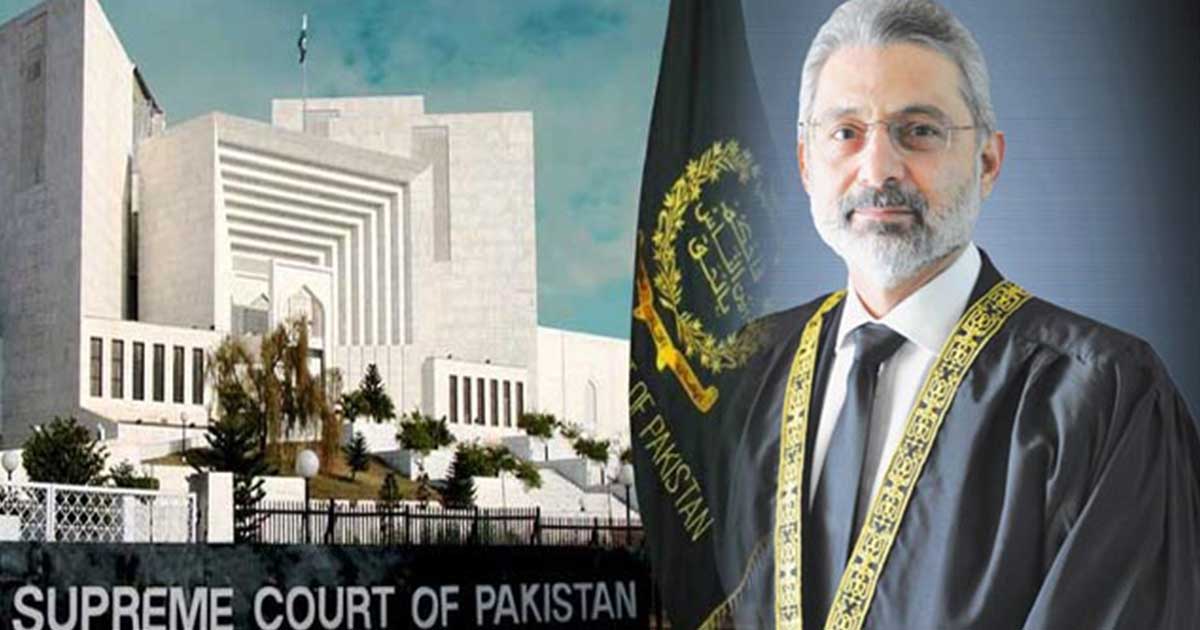 On April 26, 2021, by a majority of 6-4 in the Supreme Court of Pakistan accepted all review petitions challenging the court's judgement in the presidential reference against Justice Qazi Faez Isa except the one filed by the judge himself. This 10-member bench, headed by Justice Umar Ata Bandial, was hearing review petitions filed against the court's June 19, 2020, judgement on the presidential reference in which the court had empowered the Federal Board of Revenue (FBR) to conduct an inquiry into offshore assets of Justice Isa's spouse.
Justice Isa was the subject "of a presidential reference that alleged he had acquired three properties in London on lease in the name of his wife and children between 2011 and 2015 but did not disclose them in his wealth returns. Justice Isa contested the allegation, saying he was not a beneficial owner of the flats — either directly or indirectly."
In June 2020, the Supreme Court threw out the reference, terming it "invalid" however, "seven of the 10 judges on the bench hearing the case ordered the Inland Revenue Department and the Federal Board of Revenue (FBR) to seek explanations from the judge's wife and children on the nature and source of funding for three properties in their names in the United Kingdom and submit a report to the SC registrar."
Justice Isa then approached the apex court, seeking a review of the decision and on Feb 24, 2021, a 10-judge bench was constituted to hear the set of review petitions.
According to Salman Akram Raja, advocate of the Supreme Court of Pakistan, this April 2021 decision of the Supreme Court "has been bemoaned by those close to the government as a victory of sentiment over substance and has been spun viciously on social media as the grant of immunity by a set of brother judges to one of their own. It is said that the constitutional authority of the Supreme Judicial Council headed by the honourable chief justice of Pakistan has been constrained."
Raja undertakes a detailed explanation of the case here.
Raja notes "It would appear that during the latter half of the year 2018 the government decided to target Justice Isa and look for something to pin against him. It is clear that no general probe of the superior judiciary was initiated. Justice Isa was the solitary target. He had already delivered his judgment about the apparent facilitation of the Tehreek-e-Labbaik dharna in 2017. The lack of any mention of the London properties by Mrs Isa, prior to her filings for the tax year 2018, caught the eye of the sleuths engaged for this purpose. In normal circumstances, a notice under the tax law could have been issued to Mrs Isa asking her to explain her acquisition of property in London. In normal circumstances, the explanation based on the bank transfers and the claim of agricultural income commensurate to the agricultural land owned would have been accepted and the matter closed."
Further, as Raja points out "no notice at all was issued to Mrs Isa by the relevant tax officer. The president of Pakistan, on advice of the prime minister, proceeded with the filing of a presidential reference before the Supreme Judicial Council for the removal of Justice Isa as judge of the Supreme Court of Pakistan. The coterie responsible for the first round of malice against Justice Isa and his family got to work again in producing the FBR Report. Non-compliant officers within the FBR were removed. It was this direction that was challenged in review and has now been set aside. Consequently, the FBR Report that was directed to be compiled by the order of the seven judges stands quashed."
Raja also points out that contrary to popular belief "the majority order" has not "created immunity for Mrs Isa, and by extension Justice Isa, against the due process of the law?"
Instead, Raja states "The fact that a dissent was recorded on April 26 by four honourable judges whose legal acumen and concern for the dignity of the judicial branch is beyond dispute must remind society at large of what resides at the heart of the judicial process. The act of interpreting the law, in particular the constitution, can yield disparate outcomes, each equally sincere, as text and perceived purpose are moulded by judicial minds into coherent outcomes. These outcomes remain human achievements built on a lifetime of reflection from different vantage points."