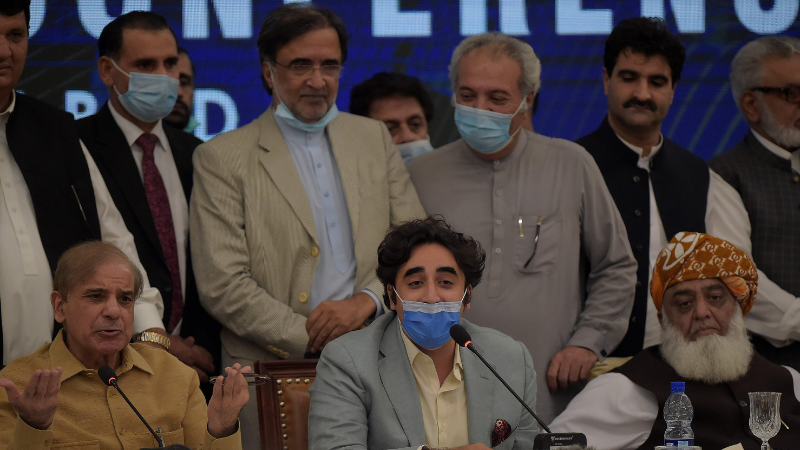 For far too long, Pakistani politicians have traipsed around the issue of the military's meddling in politics. The Multi-Party Conference held on Sunday, September 20, 2020, at PPP leader Bilawal Bhutto Zardari's initiative, might change that.
According to a news report, "after hours of discussion over ways to overthrow the "selected" government, opposition parties at the much-hyped PPP-hosted multiparty conference on Sunday demanded the "immediate" resignation of Prime Minister Imran Khan."
A 26-point resolution, read out by JUI-F chief Maulana Fazlur Rehman at a press conference held after multiparty conference late on Sunday evening, named the forum Pakistan Democratic Movement (PDM) "an alliance structure which will lead and guide nationwide protests against the anti-public and anti-nation government in a disciplined and integrated manner."
Further, the resolution stated, "the current government has been granted "fake stability by the same establishment" that interfered with the elections to bring the incumbent rulers to power. It expressed "extreme concern" over the increasing interference of the establishment in internal affairs of the country and regarded it as a "danger to the nation's stability and institutions".
The political opposition also demanded that elections be held again in a transparent manner and that electoral reforms should be passed in order to ensure free and fair polls.
Terming the Parliament a "rubber stamp", the PDM declared that the opposition will not cooperate with the government in the legislative process. It also demanded that a new law of accountability be passed in the country that is in accordance with the Supreme Court's verdict and recommendations from Human Rights Watch and Council of Islamic Ideology. This would hold everyone accountable, including bureaucrats, lawmakers, judicial and army officials.
In particular, the PDM resolution said that claims made in a recent news report regarding retired Lt Gen Asim Saleem Bajwa's assets and family business should be probed. The forum said that Bajwa should be removed as the chairman of CPEC Authority until the investigation is completed."
Further, PDM "agreed upon a six-point action plan to depose the incumbent government, which would be implemented in phases. In the first phase that starts in October, opposition parties will hold joint rallies in all four provinces.
The second phase will begin in December of this year, during which the opposition will hold "huge public demonstrations" across the country. In January next year, the opposition will set out on a "decisive long march" towards Islamabad.
The opposition will also enlist lawyers, traders, farmers, students, media as well as members of the civil society in its movement. In order to oust the government, opposition parties will use "every legal and constitutional option in and out of parliament, which include moving no-confidence motions and collective resignations from assemblies at an appropriate time," the resolution states."
The conference was addressed by both Pakistan Peoples Party (PPP) leader Asif Ali Zardari and PML-N chief and deposed prime minister Nawaz Sharif via video link from London.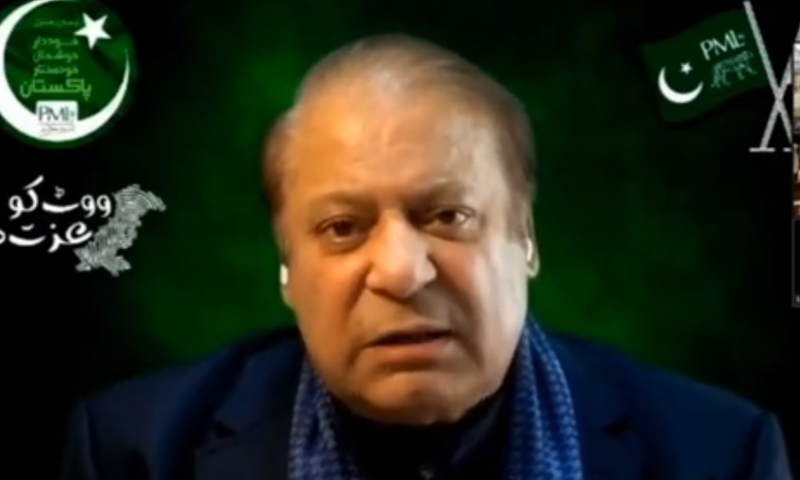 Breaking his silence after months in a hard-hitting speech former Prime MinisterNawaz Sharif said ""Our foremost priority should be removing this selected government and this system. Our struggle is not against Imran Khan. Today, our struggle is against those who installed Imran Khan and who manipulated elections to bring an incapable man like him into power and thus, destroyed the country. If change is not brought, it will bring irreversible loss to this country.
Nawaz Sharif said, "It is very important that our armed forces stay away from our governmental system according to our Constitution and the Quaid's speech, and not interfere with the people's choice. We have made this country a joke in our own eyes and internationally as well. Pakistan has been constantly deprived of a democratic system […]"
Sharif pointed out that "When the vote is dishonoured, the entire democratic system becomes meaningless. When it is decided before the election process as to who will win and who will lose, then it can be guessed how the public is betrayed and how the public's mandate is stolen."
The multi-party conference was attended by 12 opposition parties, including Pakistan Muslim League -Nawaz (PML-N), Jamiat Ulema-i-Islam (JUI-F). The attendees included JUIF chief Maulana Fazlur Rehman, and an 11-member PML-N team: Khawaja Asif, Ahsan Iqbal, Ayaz Sadiq, Pervaiz Rasheed, Maryam Nawaz, Khawaja Saad Rafique, Rana Sanaullah, Ameer Maqam and Marriyum Aurangzeb.
Prior to the meeting Bilawal Bhutto Zardari, chairman of PPP, talked over telephone to the presidents of two factions of the Balochistan National Party, Sardar Akhtar Mengal and Israrullah Zehri, Qaumi Watan Party chief Aftab Sherpao and National Party leader Dr Abdul Malik.