In the midst of economic crises and international turmoil, Army Chief General Bajwa's extension continues to occupy primetime on Pakistani media and in a predictable development the government and the opposition will work together to ensure that the COAS gets his extension.
In August 2019, Prime Minister Imran Khan had extended Gen Bajwa's tenure for three years through a notification, but on November 26, 2019 – three days before Gen Bajwa was due to retire – the Supreme Court under then Chief Justice Khosa suspended the order. Two days later the apex court announced that Bajwa would remain the COAS for another six months during which the parliament would legislate on the army chief's extension/reappointment.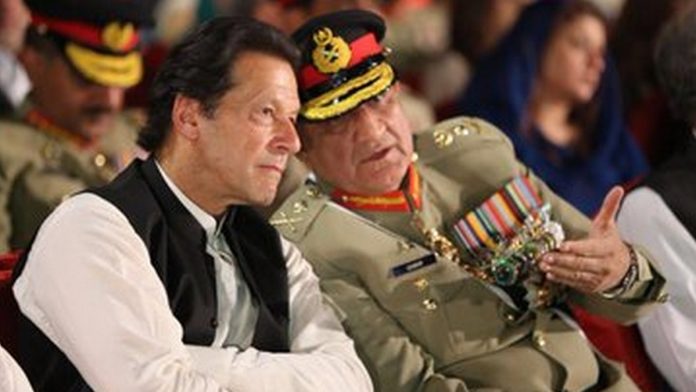 In the wake of this order, the PTI government decided to introduce an amendment bill in parliament after building a consensus with major opposition parties – PMLN and PPP – on the matter.
As Dawn reports "The government needs the support of opposition parties to make

the amendments as any amendment to the Constitution needs to be approved by at least two-thirds of the membership of each House — the National Assembly and Senate. "We are hopeful that the bill seeking amendments in the army act, which requires a simple majority, will be passed from both houses unanimously on Friday," said PTI MNA Malik Amir Dogar. He said that under a provision, the maximum age limit of the army, navy and air force chiefs and joint chief of staff committee will be 64 years in case they are given an extension in their tenures."
The new laws"will fix 64 years as the maximum age limit of the three services chiefs — chief of army staff, chief of air staff and chief of naval staff — and the chairman of the joint chief of staff committee, with the prime minister having the prerogative to give an extension to any of them in future after completion of their normal tenure at the age of 60 years and the president having the power to give the final nod."
Interestingly, "speaking to reporters after the NA session, PPP Chairperson Bilawal Bhutto Zardari said his party will support the legislation if it is done through the parliamentary rules and regulations. He said the bills will first be sent to the National Assembly Standing Committee on Defence and the matter will be discussed in the House, adding that PML-N had not taken the opposition into confidence before offering the government their unconditional support on the legislation. "I think this should have not happened in this way. It is the responsibility of the leader of the opposition to unite the opposition and maintain consensus among ranks."
However, "However, Jamaat-i-Islami (JI) chief Sirajul Haq tweeted on Friday evening

that his party "will not support" the Army Act amendment bill. JUI-F chief Maulana Fazlur Rehman, while talking to media in Islamabad, also said his party will "thoroughly resist" the amendment bill because it cannot give the right to legislate to a National Assembly "that was formed after stealing the people's mandate"."