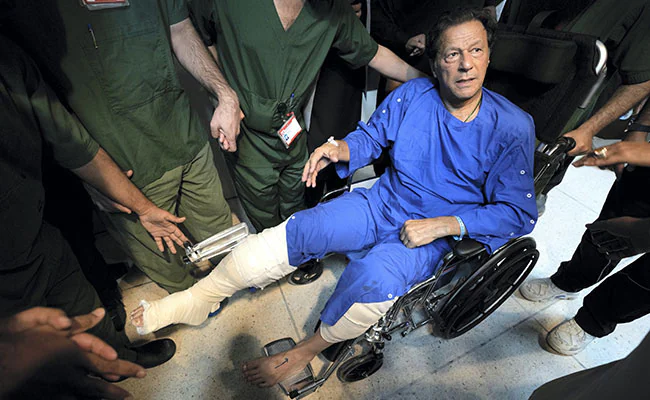 The recent assassination attempt on former prime minister Imran Khan means that the cricketer-turned-celebrity will be unable to continue with the Long March until his injuries heal.
If, the march does not resume before the new year, then by then, decisions about the office of the chief of army staff would have been taken. Further, it also means that no elections are possible before early summer and most likely June, July or August.
This means that the march may not resume as the main aims of the march were to put pressure on the current government to hold quick elections and on the military establishment to ensure that an army chief of Khan's liking took over.
It is also interesting that while Khan named a serving Major General in the ISI as one of the three people behind the assassination attempt, he and others did not accuse the army high command such as COAS or even DG ISI for the attack, let alone the institution of the army — something he and his supporters have been doing for the last few months.
There are glaring inconsistencies in Khan's injury story as well. No serious assassin shoots in the foot or leg. Imran Khan refused to have medical exam anywhere except in his own hospital. Cancer hospitals do not have medico-legal officers or orthopedists.
Imran Khan has also changed the number of bullets that hit him in various interviews. News  reports said he was shot in one leg but he appeared in public with plaster on both legs. And if he has broken bones, as the hard plaster suggested, how can they have healed so quickly?
If this was a tactical move by Imran Khan at trying to target an individual not an institution and so attempt to create divisions within then it made little sense. As former editor of Dawn, Abbas Nasir stated, "in an ostensibly disciplined institution it would be pretty nigh impossible for a two-star to so blatantly go on a solo flight, without risking his career; he would not last a day in his job if his alleged actions or activities came to light. An almost unprecedented written ISPR response that followed Mr Khan's address confirmed that. It mentioned the 'PTI chairman', as it strongly rebutted his allegations, terming them baseless and irresponsible, and made clear the institution stood firmly behind the named officer. The ISPR statement added the government has been requested to investigate the matter and initiate legal action "against those responsible for defamation and false accusations against the institution and its officials without any evidence whatsoever".
Whether Khan's popularity spreads after this event is yet to be seen. Will this rally his base, most likely? Will it give him more supporters, not yet known?
The government, however, has an uphill task of multiple fronts: it needs to do better at fighting Khan's narrative, it needs to regain its ratings in Punjab, and it needs the economy back on track. Will it be able to do that in the coming months is hard to say.