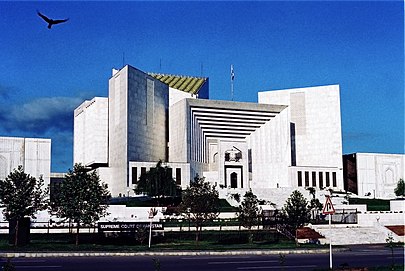 Pakistan is going through one of its worst economic crises and instead of stable politics, there is a clash between the judiciary on the one hand and all major political parties and many constitutional lawyers and analysts on the other. Both sides believe they are in the right – with the ruling coalition arguing that the judiciary is contravening the constitution and the judiciary arguing that its interpretation is the correct one.
The Supreme Court's decision to strike down the election of Hamza Shahbaz Sharif as illegal and declare Perveiz Elahi as chief minister of Punjab led the ruling coalition to file a petition for review of the ruling. The petition asked for a full court to hear the petition, but it was turned down by the Supreme Court. In response, the ruling coalition on Monday decided to boycott the proceedings of the apex court expressing "lack of confidence" in the judges hearing the case on the validity of the election of the Punjab chief minister. While this is not the first time that the credibility of the judiciary has being questioned the issue at hand is that the executive and the legislature are in a state of paralysis.
According to legal experts, the ruling of the Supreme Court goes beyond the interpretation of the provision of the law and is, in fact, an attempt to rewrite the Constitution. According to Reema Omer, Legal Adviser South Asia for International Commission of Jurists (ICJ), the Supreme Court's re-writing of Art 63A is the cause of the continuing crisis in Punjab. In a series of tweets, she laid out the entire issue.
"Before SC re-wrote Art 63A, the defection process was clear: if MNAs/MPAs voted against party line in certain situations, the party head could, after show cause, issue a defection declaration.
"ECP, after giving them a fair hearing, could decide whether or not to de-seat Qs such as whether there was a party direction; who the direction was to come from; whether it was communicated to members etc. were decided by ECP at this stage after hearing all parties.
"All this, however, happened AFTER vote was counted The only question was whether MNAs/MPAs who voted against party line could be de-seated – outcome of the election/vote was not effected SC's interpretation made a complete mess of the process envisioned by the Constitution
"SC held votes cast against direction of parliamentary party "cannot be counted" But it did not clarify what procedure has to be adopted to disregard these votes Is the presiding officer supposed to disregard votes? When? At the time of the count?
"If yes, how is the presiding officer expected to inquire into disputed facts at the time? For example, whether the members received directions from the party before when the parliamentary party leader says direction was communicated, but members say it was not?
"Similarly, given the ambiguity in Supreme Court and ECP rulings on this issue, how should the presiding officer decide whether or not to count votes if there is a clash between direction of party head and direction of leader of parliamentary party?
"Also, what if 5 PML-Q members had abstained and 5 had voted for Parvez Elahi, what should the presiding officer have done? Should the presiding officer have postponed vote count until after conducting an inquiry into disputed facts? For how long? None of this is clear
"It is also astonishing that based on SC short order, votes cast by 25 MPAs have been disregarded retrospectively Election has taken place once again, and vote count has again turned into a dispute Yet, even after two months, we don't have detailed reasons for the SC order
"Earlier, the presiding officer only had a limited role in the Art 63A process And SC was only an appellate forum Now, it seems presiding officer has been given immense powers, and SC has also carved a much larger role for itself as primary arbiter if there is a dispute
"All this against the clear text of the Constitution If the interpretation of Art 63A remains what it is today, it is likely we will see such chaos, uncertainty wherever there is a close election or vote, resulting in more political instability and judicialization of politics."
As author and columnist, Zahid Hussain noted in a recent column, "Reckless judicial intervention crippled the executive, making it harder for the elected governments to deliver. It also widened the imbalance in the distribution of power between the pillars of state. It is imperative that power and discretion be exercised reasonably and fairly to allow the system to work smoothly."