On December 17, 2019, a special anti-terrorism court sentenced former military dictator Pervez Musharraf to death in absentia on Tuesday on treason charges stemming from his imposition of a state of emergency in 2007. While the verdict was not publicly available it was a majority verdict, with two judges deciding against Musharraf. In a country that has had 4 military dictators in its last 72 years, Pervez Musharraf is the first former army chief to be charged with treason.
As predicted the army issued a strongly worded statement that spoke of "pain and anguish" in the ranks and added that: "The due legal process seems to have been ignored." The army statement also asserted that the case had been concluded in haste and that Musharraf "fought wars for the defence of the country (and) can surely never be a traitor."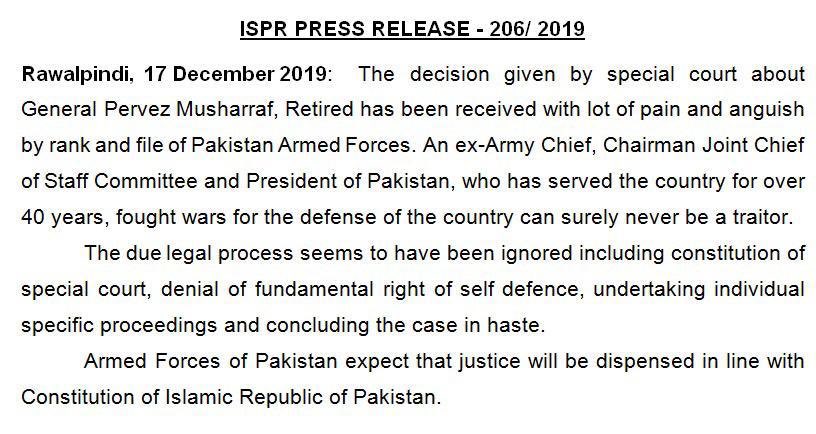 Many analysts have critiqued the ISPR statement, notably well known lawyer and analyst, Babar Sattar, South Asia Adviser for International Commission of Jurists (ICJ) Reema Omer, former Member of National Assembly Bushra Gohar, analyst and commentator Mohammad Taqi and former ambassador and author and public intellectual Husain Haqqani.