Well, well, well…look who has turned an about face on the blasphemy law! It is none other than JUI chief Fazlur Rehman himself.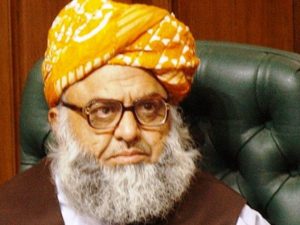 This is the same man who termed requests to reconsider the blasphemy law "a favor to the US" last December and then after Salmaan Taseer Shaheed was murdered could not bring himself even to condemn such an act, but rather issued an equivocating response that partially blamed Governor Taseer himself.
Consider JUI-F chief Maulana Fazlur Rehman who said that the murder was the result of the failure of the country's democratic institutions "by this he meant, he said, the failure to implement Islamic laws in the country. When pressed on the issue, he said that the country was experiencing "extremism on both sides", religious and secular forces which were hell bent upon proving each other wrong.
When Minister Minority Affairs Shahbaz Bhatti Shaheed was also murdered for the same reason – speaking out against the misuse of blasphemy laws – Fazlur Rehman was so cowardly that he could not even stand to pay respect for the slain minister. Apparently, two short minutes time was too much to ask.
THREE REMAIN SEATED: But many in the house and the galleries were surprised to see three bearded members of the opposition Jamiat Ulema-i-Islam of Maulana Fazlur Rehman remaining seated in their chairs when the rest of lawmakers stood up to observe two minutes' silence for Mr Bhatti.

There was no immediate explanation what motivated the JUI back-benchers, in the absence of their party leader, to violate a parliamentary etiquette, and a directive given by the chair, in agreement with some voices raised in the house, that members stand up to pay a silent tribute to their assassinated colleague.
The reaction in Dawn is 100% correct. Fazlur Rehman speaking out against such vigilante killings now is the height of hypocrisy.
While Maulana Fazlur Rehman can now say that "such acts [of violence] amount to taking the law and constitution into one's own hands", the fact remains that religious and hardline political parties, such as his own JUI-F, have played an incendiary role in bringing matters to this pass. And this is true not only in terms of the recent furore over the proposal to bring the blasphemy laws under parliamentary review but also in a larger sense — over the decades the mindset that produced extremist and dangerous groups has been steadily nurtured.
Still, as Dawn correctly observes it is essential that such religious leaders are finally coming to understand that the issue is NOT between secularism and religion NOR is it between liberals and extremists. Rather the only issue is one of law and order and of basic justice and human rights.
The question remains however whether Fazlur Rehman is merely willing to speak a few conciliatory words or if he will be willing to bring to bear the full strength of JUI-F to honour the sacrifice of Salmaan Taseer and Shahbaz Bhatti as well as everyone who has been a victim of misuse of the blasphemy  law for some personal or political ends.
The religious parties have been quick to carry out massive street protests when it suits their agenda. Will they now organize protests against misuse of blasphemy laws? Are they willing to walk? Or is this simply talk?