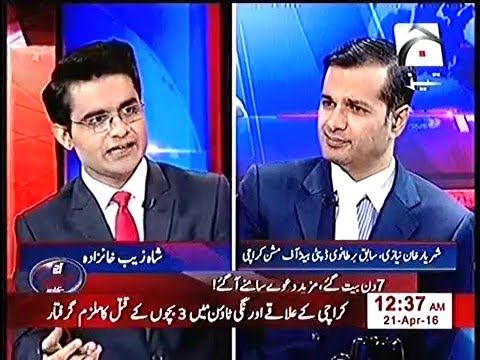 Due to the "absence of adequate evidence", the Scotland Yard cleared, MQM chief Altaf Hussain in the money laundering case. According to Pakistan media, Metropolitan Police confirmed it that the investigation into the money laundering case against the MQM chief and others has been concluded.
Altaf Hussain was facing the media trial on the above mentioned case for more than three years. While his case was under investigation by the Law Enforcers of United Kingdom, the electronic media in Pakistan had convicted him with the crime.
Pakistani electronic media especially the evening talk shows are losing the credibility among the viewers. They have become more like a noise box than informative medium for the public. When it comes to journalistic ethics and norms, Pakistan electronic media has opted it out for the choice "Pay as you go" trend. The International Journal of Communication from the University of Southern California did a study called "Beyond the Western masses: Demography and Pakistani Media Credibility Perception" based on survey. The study examined Pakistani media's credibility among the people of Pakistan with respect to their ethnic backgrounds. They found out that ethnicity is a key indicator in predicting media credibility. According to their result, the minority ethnic groups tend to find domestic television to be less credible, and international television to be more credible, than do members of the majority Punjabi group. In the study, "local television" was used for any type of television channel run by government or private media companies and serviced through aerial or cable/satellite connections in Pakistan, distinguishable from international television. But according to survey, in Pakistan the International media like CNN, BBC, and Al-Jazeera has smaller audiences as compared to Urdu-speaking channels.