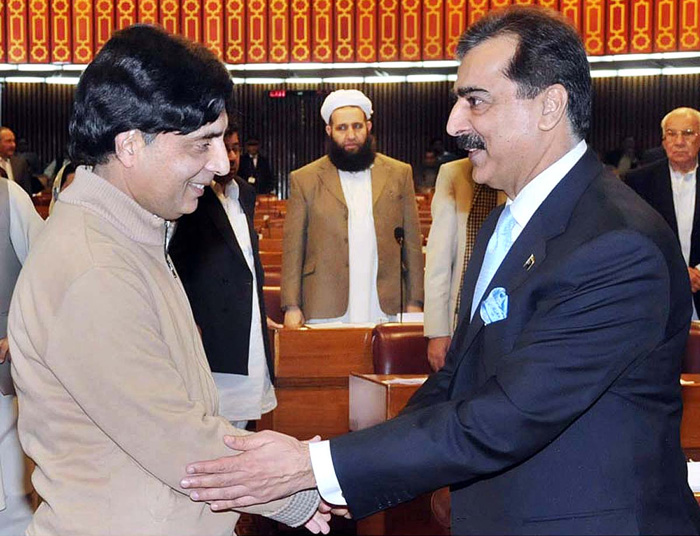 Recently Ch. Nisar has been upbeat about the misuse of some secret funds, which according to him betray the nefarious designs of the Government to bribe the journalists in order to use them against PML (N) in the upcoming general elections.  He is in possession of some vital taped piece of information which, he claims, is enough to cause consternation in the Government circles.  This means he has under-cover ties with the agency keeping a close watch on the official political activities and bugging Government telephonic communications to tip off Ch. Nisar about what is going on below the surface.  Obviously, Ch. Nisar has strong reasons for revealing the secret and his concerns surely need to be addressed suitably to boost up his morale and clear the way for the next elections to be free, fair and impartial.  The clarifications made by Kaira also reveal the break-up of these funds to be spent in different areas falling under the aegis of his Ministry.   Should we find a neutral referee to preside over this lingering contest of allegations and counter-allegations and give him a free hand to blow the whistle on whoever, he thinks, is overstepping the line or committing a foul?  Debates are always inconclusive and the verdict given is never acceptable to the losing side.  So, this option can be ruled out as an exercise in vain.  Let us accept, as decent guys, then that like any other Government in the past this Government has also its own priorities and has the prerogative to take its time and spend the funds allocated, the way it thinks best, in order to realize its stated objectives to satisfy its vote following and, at the same time, stabilize its own working apparatus.  Don't single out this Government for using the funds to realize its own interests.  All the politicians, without exception, seek moral justification for their selfishness.
Literally speaking secret funds are meant for special purposes and do not have records to reconcile the spending.  It is not exclusive to this Government – every Government has been doing so and shall continue doing it.  To be precise, these funds are per se earmarked to oblige different individuals and groups of people to extract some political favors considered crucial to meaningful functioning of the Government.  I do not believe Ch. Nisar is not fully aware of it and the way he has tried to assail the Government is at best an attempt to score political points.  During his halcyon days, I am sure, Ch. Nisar must himself have been doing this and whenever he finds his way into the power corridors again he will not desist doing the same to support the Government he will be a part and parcel of.  If what the Government is doing with these funds reeks of corruption then every single Government in the past has been equally corrupt.   I quote a Persian proverb to prove my point:  "een gunahaist keh dur shehr-e-shuma neez kunand".   The translation would roughly run like "This is a sin which is committed in your home town as well".   In summary, I think, our leaders need the gravitas to show respect and tolerance for others to do what they themselves have been doing or shall be doing when their turn comes.
While on the subject, I would like to talk about a segment of these funds which has been set aside to build a Media Town for the journalists.  Ch. Nisar has not spoken about this part of the funds or, may be, he deliberately skipped because the media is involved on whom he himself has to rely for the projection of his own righteousness.  Every Government which assumes power in this country, first thing it promises invariably is providing a housing colony for the journalists of this country.  Shahbaz Sharif has not been far behind in making tall promises on this account.  Should these journalists be preferred over the homeless people of this country who cannot afford a roof over their head and are more in need of a shelter than this affluent media class?  Watch out for their lifestyle and the way they speak through their noses in the TV Talk Shows.  Their dress is neat and clean as a whistle and the way they talk looks like they are the quintessence of political sagacity and surpass even Socrates in wisdom.  They don't fail to let an opportunity go for making a fun even of a notable lady like the late Fauzia Waha by asking her "Do you know how to scramble an egg?"   They enjoy life at the expense of others and their sponsored junkets overseas can be cited to qualify this statement.  Even a self-righteous person like Ansar Abbasi – the sole standard bearer of Islam and Pakistan -.shall not equivocate to avail of the facility the Government has in mind for the media and may just be the first in the front line to benefit from such a generous Government offer.  Will the Government muster the courage to ask these super models to declare their assets?
The misuse of Government funds is generally in two forms i.e. to offer money as kickbacks to achieve some specific purposes and defrauding the Government through misappropriation of these funds.  Even if the allegations are true, does Ch. Nisar not know that this is politics, first and foremost, and if the present Government is doing what he has claimed, was not Nawaz Sharif doing the same during his time against BB?   Let me make myself clear.  NS was using money to launch a vilification campaign against BB through the Punjab media and the Punjab clergy.  I would go even further to state with conviction that the groundwork for the ultimate assassination of BB was done during the time of NS as Chief Minister, Punjab, and the investment to bankroll this creepy campaign came directly from the Sharif family.   I come from a remote area in Sargodha and know first hand the propaganda campaign launched through the pulpits of the mosques and for the media side of campaign the services of the daily "Jang" were enlisted which so readily offered its pages for this noble cause.  I don't think that either of these two main sources of propaganda went after BB voluntarily, they must have been fully briefed and compensated.  They both, in fact, worked overtime to scale back the impact BB was making on the psyche of the people as a new entrant to the politics of this country and fast becoming a force to reckon with.
I have noted over the years that whichever party takes up the reins of the Government, first of all, announces its plans to build a media town to beat the earlier Government which failed on a similar promise made to the journalist community.  My question is are the journalists living below the poverty line who deserve such a special treatment or is it a craft to buy them off to get some favors in return at the right time?  What about the common man like me who belongs to the streets of Pakistan? The ordinary people do not deserve similar consideration, perhaps, because they are the children of a lesser God.  I don't think that even Ch. Nisar or his party will ever do anything for the poor and needy of this country.  Their focus will remain riveted on the pockets of influence in the form of media, religion and the newspaper industry.  I am calling "media" an industry on purpose because it is a business enterprise – pure and simple – carefully tailored to make money than doing something worthwhile which is designed to set our political house in order and force the Government-in-office to introduce far reaching reforms to improve the condition of the horribly oppressed and neglected section of our society.
Ch. Nisar has enjoyed the luxuries of remaining in power right from the time of Zia.  He is a beneficiary of his family's strong military connections.  I hope he knows the multiple ways in which the secret or overt funds are misused and wasted.  When in the Government he must have done some development works in his constituencies.  Can he tell that the funds were spent in a very upright way?  Was he not favoring the contractors of his choice from among his voters or the inner circle of his friends and/or well wishers?  Every politician of any description does so and Ch. Nisar is no exception.  So, would he agree that he did also like others misuse the funds and in some cases wasted them only to oblige his political sympathizers on whom he desperately depends during an election season?  Add Shahbaz Sharif, the world's best administrator, to the syndrome and you will find that he wasted millions on sasti roti project which failed to take off to resolve the common man's problem.  If I were his advisor, I would ask him to throw enough wheat in the market for people to buy at subsidized rates – the sasti roti will at once reach the doorstep of those who need it most.  Sponsoring the meaningless projects for self-aggrandizement on the basis of racial affinity in Lahore and Sialkot is a tantamount of misuse of public money.  This is an indirect reference and I need not be too explicit.  The bottom-line is only too obvious.  This can go on and on endlessly but a couple of examples given should suffice to serve as a sounding board for Ch. Nisar to visualize what is actually going on around by way of the misuse of funds in different ways and in different areas.  The tailpiece is that moralizing in politics is pointless, if not forbidden, but moral turpitude is definitely a part of the game and I hope the political hopefuls of this country are aware of this funny figure of speech.
Why after all take PPP to task for creating a cell in media which works according to the order of priorities set by it in the best interest of the country and the people.
The writer is in his mid 70s and has to his credit a vast experience of working with national and international business executives. He can be reached at qadirs38@yahoo.com