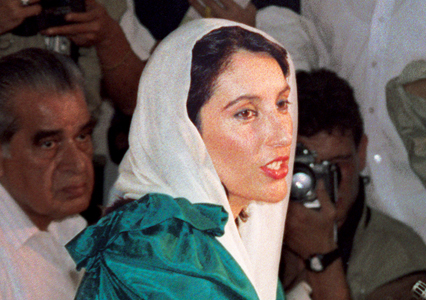 by Mark Siegel
I met Gen. Zia-ul- Haq in Islamabad in 1987 as part of a small delegation of Democratic Party officials. After the formal meeting' Haq pulled me aside and told me he knew who I was. "The worst mistake of my life'" he sneered' "was letting your friend live."
I shared this encounter over lunch the following day in Karachi with that friend' Benazir Bhutto. Without a hint of emotion' she said: "He is absolutely right." Bhutto was a very shy, quiet young woman when we first met after her release from dictator Haq's jail. Her face betrayed the enormity of the responsibility burdened on her shoulders' the daunting challenge before her: defying her father's killer' Haq' and returning Pakistan to democracy.
At the first dinner party my wife and I hosted in her honor in Washington' D.C.' in 1984' Bhutto enraptured our guests with her intellect' poise' and passion. But she was also clever' witty' and warm. She was the whole package. People in the salons of Pakistan's cities may revel in criticizing her' even now after her assassination' but who among them would have selflessly sacrificed a good and happy life out of civic responsibility' who among them could possibly understand the limitlessness of her commitment' courage and love of Pakistan.
Bhutto did not tolerate any form of bigotry or intolerance. When she was elected prime minister in 1988' she asked me to represent her government. I initially hesitated' thinking it might be politically difficult for her in Pakistan to have a Jewish lobbyist in America. "Don't be ridiculous'" she said. "You stood by us when we were fighting for democracy' and you'll be with us as we make a new Pakistan."
When she was out of power' we hit the lecture circuit to keep Pakistani democracy alive in world opinion. It was then that I came to fully understand Bhutto's intellectual depth' and the pain and loneliness she endured because of her political victimization. I think she particularly enjoyed the company of her Western friends because we treated her neither as an icon nor a goddess.
We would battle about politics and policy' about when to compromise and when to fight. And then sometimes we would battle over little things. The time we were in Maui' she insisted on us having dinner at an Italian restaurant (her favorite international cuisine). I put my foot down. We hadn't come to the Pacific to eat Italian. She reluctantly agreed to the Polynesian cuisine' but grumbled about it. It was one of my few victories.
Some thought she was arrogant because she didn't suffer fools lightly. Her responsibility to her country always took precedence over personal happiness. In 2002' in my presence' Bhutto got a call on her mobile phone from her husband' Asif Ali Zardari. Her Pakistan Peoples Party had won the 2002 elections' despite the process having been clumsily rigged. Zardari was in jail' languishing there since 1996' convicted of no crime other than being married to Bhutto. He was with an Inter-Services Intelligence officer who had offered to drop all trumped-up charges against the family' and even install Zardari as a minister in the new cabinet' if Bhutto would agree to abandon leadership of the PPP. Before she could react' Zardari stopped the conversation by saying' "No' absolutely not' out of the question. I'd rather rot in prison for the rest of my life than have you give in to them." She welled up and smiled a sad smile.
Bhutto was not intimidated by generals or jihadists. Once she was convinced she was right' she would never back down. This was true to the very end. Many of us begged her not to go back to Pakistan in 2007. I told her that she had done enough' sacrificed enough' and deserved more than anyone to have a life. She sighed over the phone' and said' "Mark' this is my life. You should know that by now." That life was snuffed out on Dec. 27' 2007' in Rawalpindi.
But when I see the inspired pushback of the government and people of Pakistan against the extremists' as I watch the Pakistani military courageously taking on the Taliban and Al Qaeda in Swat and in the Waziristans' as I watch the implementation of the PPP manifesto' and as I see the 1973 Constitution restored' I realize that my friend is alive' and that she will always be alive.
Originally published in Newsweek Pakistan on 27 December 2010. The author, Mark Siegel, is a producer of Bhutto and coauthor of Bhutto's last book' Reconciliation: Islam' Democracy and the West.