On November 26, 2019, the Supreme Court of Pakistan suspended the notification issued by Prime Minister Imran Khan's government giving Chief of Army Staff General Qamar Javed Bajwa a three-year extension. Gen. Bajwa, among others, was also given notice to appear before the Supreme Court.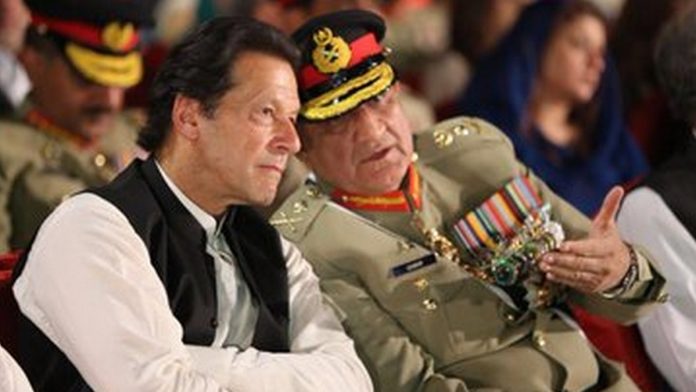 Reena Omer Legal Advisor, South Asia, International Commission of Jurists, tweeted from the hearing that: "Justice Shah questions whether Cabinet decision to grant extension made after due application of mind. Chief Justice Asif Khosa asks how Govt can predict "emergency" situation will continue for 3 yrs i.e. duration of extension." She also pointed out that the Supreme Court in its order gave the following rationale: "Notably, in addition to reasoning behind extension + procedure adopted by Govt, Court will also look at whether any law allows COAS tenure to be extended at all." And Omer pointed out "revision of rules is subject to judicial review, incl. on the ground of mala fide. SC can therefore question intention behind cabinet's decision to amend Rule 255 and whether it is just to serve one person."
Babar Sattar, well-known lawyer and analyst, said aloud on Twitter what many Pakistanis are thinking: "Shouldn't Gen. Bajwa hang his boots & walk into the sunset instead of explaining in full public view why there is no one in next tier leadership of this professional army able to take over & do a swell job of running it? Shouldn't he think of his legacy as CJP is thinking of his?" In a long thread of tweets Sattar argued: "Supreme Court's decision suspending Chief of Army Staff's extension notification is surprising only because it is deemed that ordinary rules & principles of law applicable to public servants don't apply to army chief being above the law (No one would bat an eyelid if order suspended Secretary's extension). It is settled law that public servants can't be rehired or granted extensions except in truly extraordinary situations to be justified in reasoning of the summary moved for extension, which reasoning is then justiciable by courts. This principle is squarely applicable to COAS. It is settled law that summaries shouldn't suffer procedural defects (should be approved by competent authority) & no one has arbitrary authority to dispense state patronage & offer contracts at whim (such as in this case where the PM has offered another 3-yr term to the COAS). With SCs suspension order, Govt & COAS will need to justify the emergency that required a 3-yr extension & in the process they'll embarrass themselves & the army, which as an institution has exemplary training & promotion system & thus an effective & functional succession system. Everyone knows this extension is no necessity (even if we can't easily write about it in print media) & that extensions are looked down on in the army as its professionalism demands as part of soldier's job to prepare & train successors & hand over command when the time comes. PM wanted our justice system to treat powerful & weak alike. Some wishes do come true? CJP responded by saying only law is powerful. This is what judicial outcomes look like with law at work. Shouldn't PM thank CJP for a practical demonstration of equality in our justice system?"
According to an Indian analyst who follows Pakistan, Tara Kartha, three key things to bear in mind are: "There is the someone who moved the Peshawar High Court against the extension of the General on the grounds that he is a Qadiani. Alongside is the inevitable speculation on possible unhappiness within the Pakistan Army at the turn of events. Powerful families who usually have a foot in the government and in the army are furious."
No one is indispensable. The Chief Justice of the Supreme Court of Pakistan has showed that the extension of Gen Bajwa was without any legal basis. So then the question to be asked is: Why was it granted?
There are those who say that even Maulana Fazlur Rehman's march was to expedite the notification of COAS Bajwa's extension. The Imran Khan government's incompetence in the extension saga is evident.
General Bajwa should learn the lesson that this is what happens when you depend on and prop up incompetent people!