On May 30th, The Pakistan military released a statement that Army Chief General Bajwa had approved death sentences for two men – a retired brigadier general and a private physician – and life imprisonment for a third – a retired lieutenant general – after they were court-martialed on charges of espionage and revealing classified information to foreign intelligence agencies. The army refused to provide more details about what the three men had done and only said that they had been convicted on charges of espionage and divulging "sensitive information to foreign agencies prejudice to the national security."
The real questions to ask are: one, who were these men spying for? Two, what was the nature of the espionage? And third, how much harm has been done to Pakistan's interests. All these questions remain unanswered.
When Pakistan's former Ambassador to the U.S. (2008-2011) and Pakistan army's bete noire, Amb Husain Haqqani wrote an article titled "Espionage case shatters Pakistan army's myths – and the belief its nuke secrets are secure" he said "The fact that senior military officers spied for a foreign country suggests that Pakistan is not as safe in the hands of the men in uniform as is suggested. If, as has been learnt, the secrets shared by the convicted officers are related to Pakistan's nuclear program, the case would increase Pakistan's paranoia about the security of its nuclear arsenal. Considering that the foreign intelligence service that paid for the secrets shared by the convicted officers belonged to the United States, there is a greater adversarial relationship between Pakistan and the US than is often revealed.
As Haqqani notes, "The espionage ring reached the highest levels of the Pakistani national security establishment. Lt Gen Iqbal served as Director of Military Operations, Corps Commander, and Adjutant General before retiring in 2015; the 'sensitive organisation' that employed Akram was one of the Pakistan's many covert nuclear facilities. To my knowledge, there are several other individuals currently under investigation and there might be more courts-martial and more convictions down the line."
Further, "The army is already trying to spin the case as proof of its internal checks and balances. An Inter-Services Public Relations press release only said that the three men had been convicted by a Field Court Martial on charges of espionage and divulging "sensitive information to foreign agencies prejudice to the national security."
Finally, "The discovery of Pakistani military officers spying for the US on Pakistan's nuclear programme also raises questions about the Pakistani establishment's national security paradigm. Instead of the nukes guaranteeing Pakistan's security against India, Pakistan must now worry about the security of its nuclear weapons against adversaries other than the Indians."
In response to Haqqani's OpEd, DGISPR Maj Gen Asif Ghafoor tweeted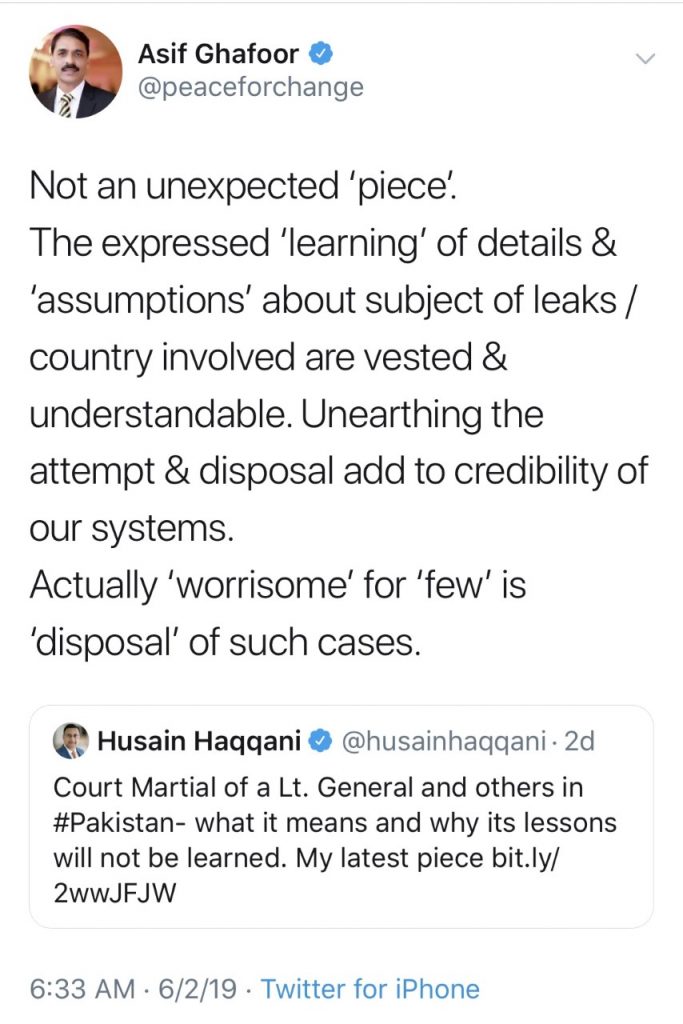 To which Haqqani replied