For the last one year there has been a consistent crackdown by the Pakistani state against any Pashtun Tahaffuz Movement (PTM) activists and their supporters, reflecting panic on the part of Pakistan's establishment.
After a successful PTM rally, its most prominent organizer Alam Mehsud was abducted by security agencies. When this enforced disappearance was exposed in social media, he was shown to have been 'arrested' on trumped up charges of terrorism.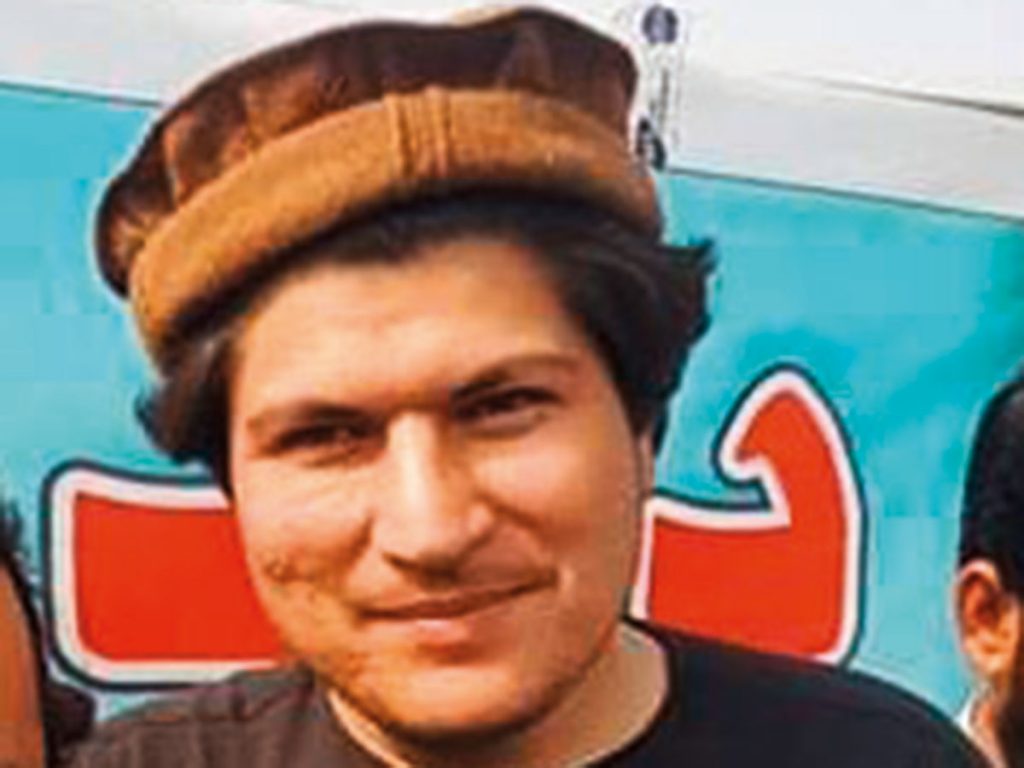 Mehsud's arrest, however, "has attracted considerable attention. He has earned a reputation for his dogged efforts to document enforced disappearances and highlight the plight of victims of landmines among Pakistan's more than 30 million Pashtuns."
According to a report in Gandhara RFE/RFL, Mehsud "never succumbed to such tactics and told his family they should not worry about him if he were ever arrested or faced other problems because of his campaigning," he said. Mehsud was conscious of the sensitivity of his work. "Sometimes, I am even accused of being involved in terrorism," he told VOA's Deewa Radio on January 19. "I am warned that I should not campaign against landmines and for [their] victims.""
One year ago "Mehsud joined [Manzoor] Pashteen and 20 other young activists to march on the capital, Islamabad, to protest the killing of Naqeebullah Meshud. A Pakistani police probe later blamed a police officer for killing the aspiring model in an encounter in Karachi. Pashteen's protest in Islamabad attracted thousands, and the PTM emerged as a civil rights movement demanding security and protection for Pashtuns, Pakistan's largest ethnic minority in the country of 207 million people.
"Manzoor appointed him as the PTM's focal point on collecting the data of missing persons [as the victims of enforced disappearances are called in Pakistan]," Idrees said. "He gave it everything and traveled across the country to document the plight of hundreds during the next year."
Prominent Pakistani intellectuals and activists have raised alarm over the Pakistani government's crackdown on dissent, especially the attempts to muzzle the Pashtun Tahaffuz Movement (PTM). Pakistan's media has been forbidden from reporting on the PTM, which has organized large rallies throughout the Pashtun territories along Pakistan's border with Afghanistan.
Members of South Asians Against Terrorism and for Human Rights (SAATH Forum), founded by former Pakistan ambassador and author Husain Haqqani and Dr Mohammed Taqi, issued a joint statement condemning the suppression of peaceful protests and the abduction by security services of several of the Pashtun Movement's activists.
One day after a large protest in Karachi led by Pashtun Tahaffuz Movement (PTM) activists, on January 21, a young Pashtun rights campaigner Alamzaib Khan Meshud was arrested by local police in Karachi. Mehsud and 15 other PTM activists were named in a First Information Report (FIR) on grounds of "allegedly rioting and inciting hatred."

"After a successful rally by PTM in Karachi, its organizer Alamzeb Mehsud was taken away by operatives of Pakistan's deep state," the statement said, adding that cases were registered against Manzoor Pashteen and other PTM leaders after the authorities' covert actions were exposed on social media.
"The Pashtun protest is unprecedented as it is peaceful, organized and emanates from the grassroots. PTM is a continuation of the non-violent resistance by Bacha Khan (Frontier Gandhi Khan Abdul Ghaffar Khan) and his followers. The peaceful resistance has broken the myth that Pashtuns are violent or support terrorism. Pashtuns, like Sindhis, Baloch, Urdu-speakers, Seraikis, and the people of Gilgit-Baltistan simply want their rights and dignity," the SAATH Forum statement asserted.