Targeted killing is back in Karachi with the killing of 46-year old Syed Ali Raza Abidi outside his home in Karachi on Christmas. Mr Abidi previously led the secular Muttahida Qaumi Movement-Pakistan (MQM-P) but resigned from the party in September for "personal reasons." His assassination comes soon after a drive-by shooting which killed two members of the the establishment-created Pak Sarzameen Party (PSP) in Karachi.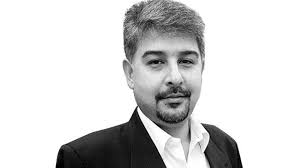 According to news reports, "unidentified gunmen opened fire on Mr Abidi's car as he arrived home. The assailants fled on a motorbike. Mr Abidi later died in hospital. "It's hard to tell what the motive behind the attack is," a Karachi police spokesperson told Dawn.com. "Whether it is a personal, political or religious issue. It is being investigated from all angles."
That Mr Abidi was a voice of reason is reflected in the outpouring of condolence messages on social media from people from every avenue of life and different political parties.
Mr Abidi "was elected to the National Assembly in the 2013 general elections from Karachi's NA-251 constituency on an MQM ticket. In November 2017, he had opposed Sattar and Pak Sarzameen Party (PSP) Chairman Mustafa Kamal's short-lived alliance, and even announced that he was resigning from his NA seat as "this is not what I believed in and stood for". Abidi was one of the leaders who had stood with former convener Sattar in the buildup to the 2018 elections when MQM-P was subject to an internal power battle. He contested the July 25 elections from Karachi's NA-243 constituency, but was defeated by Prime Minister Imran Khan.
In September this year, Abidi tendered in his resignation from the MQM-Pakistan's "basic membership" citing "personal reasons"."
Mr Abidi "He was a liberal, progressive politician who was very vocal against religious extremism, sectarianism and intolerance," said Owais Tohid, a veteran journalist and political analyst. "He was well entrenched in the civil society and campaigned for the rights of the religious minorities and the oppressed. His killing has come as a big shock," he added. "He told me about receiving death threats when I spoke with him earlier this month," Mr. Tohid said. "He said he was thinking of leaving the country. There could be political reasons behind his killing due to internal rivalries or his activism for rights groups."
The SAATH (South Asians Against Terrorism and For Human Rights) Forum, comprising progressive Pakistanis, released a statement by members on the assassination of former member of Mr Abidi