Every Pakistani Prime Minister's first trips signify which countries they are trying to woo. During the Cold War, the country of choice was the United States. For the last two decades Saudi Arabia and China have been the countries of choice. After what have been viewed as the 'establishment's elections' it is only to be expected that the army chief, not the selected Prime Minister, was the first to visit Saudi Arabia.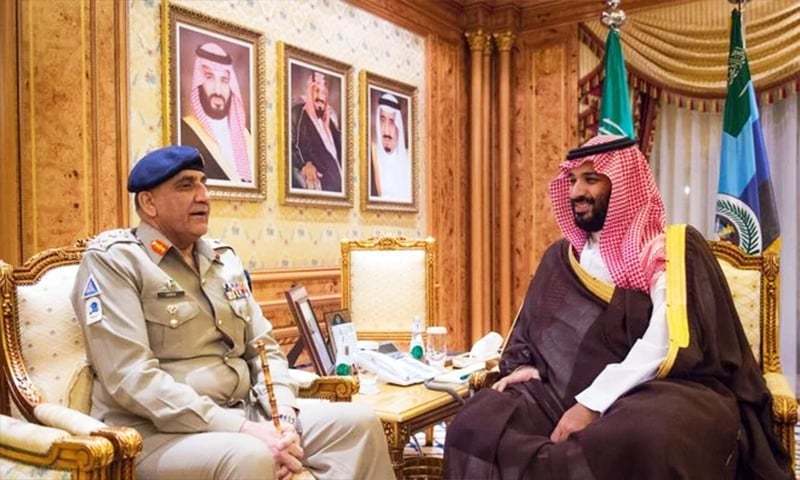 Just a few days after Saudi King Salman bin Abdul Aziz Al-Saud and Crown Prince Muhammad Bin Salman congratulated Prime Minister Imran Khan on his party's victory in last month's general elections, chief of Army Staff Gen Bajwa went on a three-day trip to the Middle East in which he went to Saudi Arabia and UAE.
During his trip to Saudi Arabia, the General met with Saudi Crown Prince Mohammad bin Salman. According to tweets by Inter-Services Public Relations (ISPR) Director General Maj Gen Asif Ghafoor, "Both discussed wide-ranging issues of mutual interest including regional security," Prince Salman expressed "strong optimism about Pakistan's ability to defeat the challenges at hand" and "[The] Crown prince also expressed his best wishes & support to the newly elected government."
There are those who argue that Pakistan must maintain equidistance between Saudi Arabia and Iran, the former a close ally, the latter a neighbor.
There are others who say Pakistan needs to choose between one of these two countries. A recent piece by Abdulrahman Al-Rashed, former general manager of Al Arabiya news channel argued that "Imran must choose between Saudi Arabia and Iran." According to Al-Rashed, "both Saudi Arabia and Pakistan share a special relationship with the US; while the relationship with Iran is no longer an option, because the PM cannot override US sanctions." Further, "it is hoped that the relationship with Pakistan will be further developed, and given a greater role in resolving regional issues, such as Afghanistan, and putting pressure to bear on Iran to stop its interference in Pakistan itself, as well as in the region."
Pakistan has always looked upon Saudi Arabia as one of its oldest and closest allies. Saudi governments have time and again helped bail out Pakistan by offering loans, hiring Pakistani labor and even helping Pakistan purchase military equipment. In recent years, however, the conflicts in Syria and Yemen have led to frictions with Pakistan being reluctant to send troops for either conflict. Pakistan has its own concerns about entering into Yemen war but we cannot blame our Saudi brothers either as they have been so generous to us over the years.
Before Imran Khan took over there were news stories about how the Jeddah-based Islamic Development Bank had been asked to provide Pakistan with over USD 4 billion in loans to aid with the dangerously low stocks of foreign currency. During the recent spat between Canada and Saudi Arabia, Pakistan sided with Saudi Arabia.
While Prime Minister Imran Khan may have offered to mediate between Iran and Saudi Arabia must be taken with a pinch of salt — like Pakistan's offers to mediate between Israel and Palestine — what needs to be seen is will Pakistan continue its policy of balancing between Tehran and Riyadh or will economic and security compulsions force Islamabad-Rawalpindi to send troops for Yemen?